Podcast: Play in new window | Download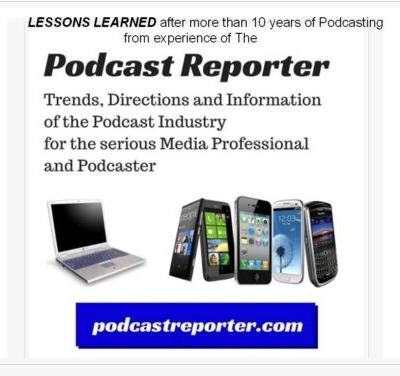 In this episode of The Podcast Reporter, we discuss a case study (in which I was involved) that was a good potential for creating a needed podcast show, but was lost in the "muck and mire" of the podosphere in its early stages.
This involves the idea of a potential startup podcast that could support a growing audience of entrepreneurs — and it was called Niche-Net (TM) (i.e., The National Internet Community of Hispanic Entrepreneurs Network).
This all started in the year 1994 — over a decade before the podosphere emerged. I was in the midst of starting my own entrepreneur venture, and it was called Niche-Net. This community was supposed to help the Hispanic community get into the entrepreneurial ventures for their own small businesses. At the time, the web site and the offers and offerings and products were varied, and a small outreach only included building web sites for that targeted community.
However, as with many startups, the venture only lasted a few years and then was gone. But what was interesting is that it did not rise up again when I got into the podosphere and started podcasts.
At that latest time, in 2005 and 2006, I could have easily started a podcast that probably would have been very successful in that market with that type of audience. But I did not. And I now know that I did blow the opportunity for a potential success of a show, as well as the successful promotion of offers, offerings, products and services for that community — even to the point of creating a meetup group and membership site based on the podcast show, which would have been called the Niche-Net podcast show.
So my case study encompasses the following aspects for discussion:
when do you know a good idea can develop into something later on for "the next big thing"?
what should you do to keep the idea captured until the right time?
what kind of mental ideas and plans and visions can you document, so that later on they can be brought into fruition with the proper new media environment or business environment?
My opinion and suggestions for these questions are the following:
When you have the idea for this new media or business idea, you should document every aspect of your vision — either in a business plan, or a feasibility plan, or an outline or detailed plan (to the extreme of a project management work-breakdown-schedule).
This documented plan should then be placed in a suspense file (either hardcopy or electronic), where you review the plan every quarter of the year and check to see if there are any new technologies or developments in which the plan can be resurrected and be incorporated into a road for a successful podcast or venture. In my case study, the original Niche-Net idea was for internet web pages (which were relatively new services for entrepreneurs in 1994) — but in 2005, the idea could have been resurrected for creating a podcast show with other means of monetization waiting to be discovered and implemented in membership sites, offers, offerings, products, services, etc., from the podcast show and its episodes and advertising.
And finally, the more detailed a feasibility plan is, the better off you may be to convert the plan into a more complete layout for a podcast show, with individual episodes that can address advertising, monetization, audience growth and opportunities for creating revenue streams of various types (e.g., from donations, tip-jars, advertising, book deals, audio sales of episodes, DVD sales of complete seasons or shows, etc.). In fact, the two resources that come to my mind are the books from Dave Jackson of The School of Podcasting that started in 2010 and even today — the books of More Podcast Money and Profit from Your Podcast.
And, of course, there are many more ideas and opportunities for success (in many ways of defining "success" in addition to financial results) — including notoriety in the old "New and Noteworthy," as well as speaking engagements, book deals, bloggingn, television and video shows and appearances, etc.
---
And so what are my lessons learned?
Well, I would suggest to start early and document your dreams. The better your details would determine the better your descriptions for making your dream into a reality once the environment appears to mold your original dream into a viable opportunity solution — especially for fame, notoriety, audience growth, acceptance or monetization.
With the documented dream in a suspense file, a review in the form of envisioning if your dream can fit into the new environment would be a benefit that can spark a new idea — and that new idea of a fit into the new market could spawn a unique or different way of improving the opportunity for a solution or another way of serving a new audience.
And then, from the review of the documented dream in your suspense file, you can then put together a plan for implementing the dream in terms of time, money, effort and possible returns (even with great feedback from trusted advisors — who may end up being your financial backers, supporters, investors, etc.). And if you have the resources to finance the dream yourself as a startup or as a podcast that can grow for a minimal investment, then you have the start to what could be a "dream come true" that will provide VALUE for your customers and listeners, as well as REWARDS for yourself in more than just financial ways.
This is a case study which I use now as a lesson learned — and it has created for me a BEST PRACTICES method of using creativity and matching it with opportunity and planning to have a possibility of going for success in podcasting and business. And who knows? If I had used my own practices stated here, then possibly the Niche-Net membership site and podcast environment might have been a very successful venture for myself at this time.
Thank you for your attention.
Copyright (c) 2020, Matrix Solutions Corporation . All rights reserved.