Podcast: Play in new window | Download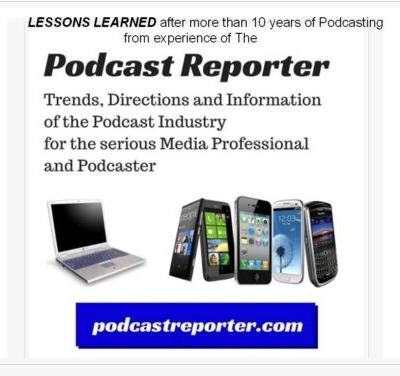 In this episode of The Podcast Reporter Show, we deliver to you a real-life example of a strategy and tactic that may bring success to you in your role as a podcast consultant — and that includes other business areas such as editing, billing, promotion, sales and a lead to other parts of your consulting business (e.g., video). This strategy and tactic is from my own experiences, and it is called the PROOF OF CONCEPT method and strategy.
This comes from the age-old tactic from a vendor who wanted to prove that he could successfully create a deliverable and successfully have it approved and satisfy a potential customer or prospect.
The age-old formula probably started initially as servitude. In other words, a craftsman or a skilled prospect would make a deal (or contract) with a master or principal. He would offer to work for a specific time period (e.g., a week or month) — or his offer would be to deliver a specific piece of work in a specific time span. If the principal (in this case, his potential customer) was completely satisfied, the agreement was that the prospect would then be upgraded to a formal laborer of the principal — or that the specific piece of work or deliverable that met the requirements would be the proof that the concept of his employment would be honored for continuing such deliverables to the customer (or master or principal — call the end receiver of the VALUE what you will) and be recognized as a true craftsman or valued employee for a period of time. And in some cases, the free time worked by the prospect would be recognized as time worked for pay, and he would receive the back wages, as well. In the case of deliverables, the agreed upon price for creating and finishing the said deliverables would also be paid, in addition to the terms of another agreement. For the deliverables, this would be a contract for creating and delivering some more final pieces — and  usually they would include back-pay for the proof of concept, as well (only this was flexible in the terms of the "contract" for the proof of concept.
---
So what was my experience in the world of podcasting with this tactic known as "proof of concept"?
Well, a prospect approached me after receiving my business card that mentioned my skills in podcasting. He wanted to know more about what I could offer him.
Instead of spouting a litany of sales-oriented offers, I wanted to know what he wanted and what he felt he needed in his business.
I saw that he wanted a full soup-to-nuts service of creating the podcast show and infrastructure, as well as the editing and production of episodes for professional polish. He called it "productizing" the episodes. Well, I declined on the large scale project and referred him to the consultant who had helped me to jump-start my podcast shows. The reference were the podcast shows I had done.
So he contacted the reference that I gave to him, but then he wanted to see what I could do with the several interviews which he had done and recorded — although some of them had very, very poor audio quality.
Now, he said that he wanted to start off with an interview show and he had recorded on his own these several audio interviews.
I told him to send me the audio files of a couple of interviews. I also looked at his web site, and I gave him a timetable for its completion and that he would receive the finished or "golden" mp3 files.
However, I gave him an amount that seemed reasonable and competitive for creating each final or golden mp3 audio interview, so that he could determine if his needs were met.
And I decided to exceed his expectations.
I took the mp3 files and listened to the poor quality of the interviews. I then cleaned up the audio, and then I added intro and outro music from quality musicians (for which I had obtained licenses to use in podcast episodes). I also added the voiceover intro with the intent of getting the listener interested enough to want to listen to the content of the interview. And I finally did the research of the interviewee and the program or situation being discussed. I also got a photo head shot of the interviewee from the public info center libraries. And then I created the SHOW NOTES, with the content and images included that would have the professional qualities that I would expect in that podcast episode.
And finally, I delivered both edited and "productized" episodes before the deadline.
The prospect was delighted, and I produced a written contract for him to sign. The contract, however, was not for the work done, but included the provision that I would receive a future minimum of episodes as content for future work to be "productized."
Thus, the basic amount was for 10 additional episodes, as well as payment for the 2 episodes that I had delivered to him with his satisfaction and approval.
The deal was done by using the tactic of the proof of concept.
And so, the prospect then became my CUSTOMER and I would receive his interview files, which then I delivered to him in return as golden mp3 files, along with the added value of the show notes, the intro voiceover, the musical intros and outros, and any photo or images in the show notes content.
Well, he delivered to me over 25 episodes in the year. And they were ALL done with the same quality and delivered to him on time.
But then, after the 25th episode, he went silent and I did not hear from him for a month or so.
Why?
I never asked why, but only saw that after the brief absence, he contacted me in a email note and began to send me more interviews again. My suspicion was that another "podcast consultant" came to him with a lower price. However, the VALUE received of the services and deliverables probably did not meet his expectations. And so he returned to me for an additional 20 episodes. In fact, he asked me to create a video that promoted his offerings and his programs to his targeted audience. And I did deliver 2 videos — one as a proof of concept that was for no charge, and the other to meet his deadline. And when he wanted me to continue with the videos, I did decline, because I did not want to go into that business, as the return for my business was not really worth the time, effort, money, work and costly equipment and requirements. So I removed myself from the video world for him.
---
So that is the story of the tactic known as the proof-of-concept which was used in a real-life scenario in the podosphere by yours truly.
Perhaps this tactic may be one that you could use, or that you could take and improve on the method with your own style and delivery for potential customers.
But you have to be careful. You have to KNOW that your skills are very high, and that your pricing is competitive, and that your financial planning has proven that you can work within the structure of your proof-of-concept to make your tactic profitable for your business. And you can see what others are doing who use a variation of this tactic — and the name of Ben Krueger from cashflowpodcasting.com comes to mind. I have seen his offers and I have taken him up on purchasing a deliverable when he used the POC method. And I was pleasantly surprised with the quality, value and final deliverable from him within the time frame specified. And Ben would be a good example to see some of his offers using the poc tactic. In addition, Dave Jackson from The School of Podcasting also had offered several deliverables using a variation of this tactic.
So if you do decide to use the proof-of-concept for your podcast consulting business, we wish you the best in generating a great revenue stream for your business by having a successful podcast business.
Thank you for your attention.
Copyright (c) 2022, Matrix Solutions Corporation and michaelandmike.com. All rights reserved.