Podcast: Play in new window | Download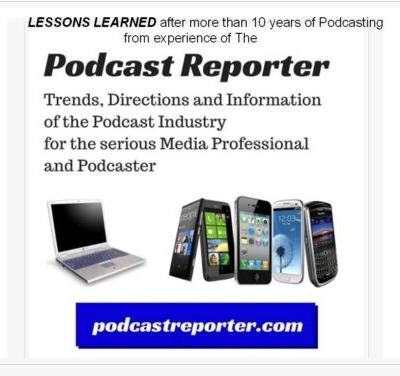 In this episode of The Podcast Reporter, we relate to you a set of podcast episodes, delivered during the week of September 20-24, 2021, that deal with the topic of improving your podcast show, as well as improving your "craft" of podcasting. These episodes were published in the podcast show by Evo Terra called Podcast Pontifications.
And what I would suggest is that this may be a good start for an actual project that you may want to plan and begin to better yourself as a podcaster, as well as learn some great techniques to improve the quality of your podcast shows.
Now, I have known Evo Terra since 2006, and I had met him in person when he attended one of my sessions which I delivered at the first Podcamp in Arizona in 2007 (when I spoke about podcast improvement for monetization and delivery). I had also interviewed Evo several times during the past 16 years on this show about his contribution as a "disrupter" of the status quo (for the beneficial reason of improvement of the craft and not just for the sake of doing away with the current workflows for podcasters). And Evo has a lot of suggestions that do provide value to both the new and aspiring podcasters, as well as to the professional podcasters.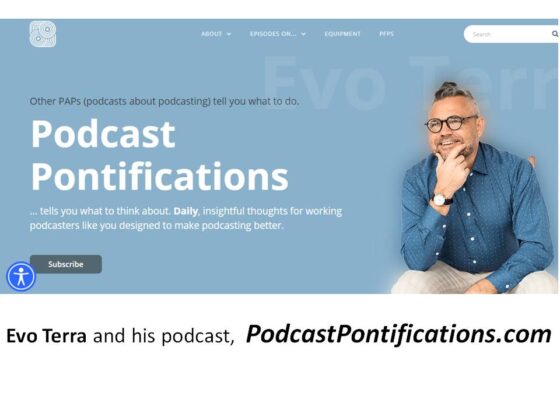 So, in reviewing the suggestions and topics and products and other deliverables mentioned by Evo in his several episodes that centered around the theme of "improving your craft" to become a better professional podcaster (and not just a newbie), I also found myself noticing that much of the improvement can come from increasing your skills as a story-teller and a planner of content. However, this content goes beyond just podcasting show notes and blogs — it also dealt with how you can improve your craft by taking tips and suggestions from other types of media (including the press and books and narrations).
So I would suggest that you consume the content for these 4 episodes that Evo has published and see if the resources mentioned and the tips that are given can add to your professionalism in building a better podcast — especially if you have a business podcast.
Some of these are the following (and this is a non-inclusive list):
Make your podcast education a continuing education program and be SERIOUS about it by planning and budgeting for both time and money to include the knowledge that will make you better in the area of CONTENT CREATION AND MEDIA;
Resources that deliver training and workshops that can help you to improve your game in podcasting (he cites 6);
Looking to the Podcast Academy for insight and knowledge from others in the podosphere for inspiration; and
5 resources to "help you think like a SERIOUS podcaster."
Although some of these resources mentioned and the roads suggested may have some financial costs, it is up to you to investigate how they can help you — after all, they are suggested by someone who has been a center of podcasting for over 16 years in the podosphere and has written some of the first books on podcasting.
So, for this short episode, we hope that you can evaluate if these resources and suggestions will help you to "improve your craft" of podcasting (and not just the mechanical part or the recording or editing part) in ALL areas of content creation, publication and distribution. If so, then you can, indeed, better yourself as a professional podcaster and as Evo says, "MASTER YOUR CRAFT OF PODCASTING." And this can help you lead your business and podcasts to success.
Thank you for your attention.
Copyright (c) 2021, Matrix Solutions Corporation and michaelandmike.com and Evo Terra of podcastpontifications.com. All rights reserved.