Podcast: Play in new window | Download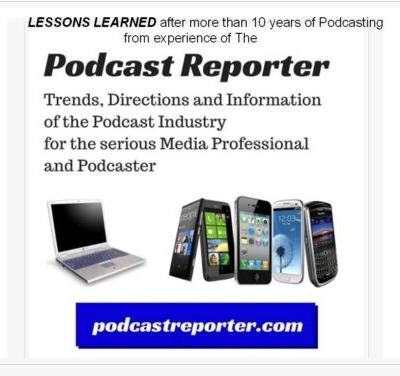 In this episode of The Podcast Reporter, we discuss the theme that is over 15 years old — that of using Skype to record a podcast episode.
This theme brought back very old memories for myself, as I had been using Skype since 2006. And it was included in the post delivered by Ben Krueger at cashflowpodcasting.com. Now, since I have personally known Ben since 2014 and trusted him with coming up for podcasters with value deliverables and suggestions, I was interested to see about this older method of doing remote interviews and capturing audio.
My own podcasting history with Skype
Since 2005, I have been involved with the podosphere, and for over 16 years, I have been a podcaster with many of my shows including the format of remote interviews — and most of them using Skype.
My experience with the earlier versions of Skype was very dismal — it took quite a few hours to get the configuration right so that it worked. And there was an application program that provided for capturing and creating the audio for recorded interviews — PowerGramo (which is no longer available). And like other competitors at the time, one configuration of PowerGramo allowed for each of the 2 podcasters on the remote interview to be recorded on a separate track. This was wonderful and allowed slight synchronization and slight editing to get the tracks ready to save and add other content (like music and intros, etc.). Of course, this was a paid application (one-time charge) and it proved very reliable.
And the benefit was that I could also pay for an additional service from Skype called "Skype-out" — this allowed me to "dial" into analog phones or cell phones in addition to "dialing" into another Skype user via the internet. Thus, when doing an interview with someone who considered himself "low tech," my interviewee would not have to deal with Skype (if the interviewee did not have it installed and configured for his use). This was a great benefit, as I could schedule and conduct interviews over the telephone without any problem (except using software like early versions of Izotope or Levelator  (as well as other software like Auphonic) to try and correct problems with the audio).
And finally, there was another configuration of Skype for the reverse, called Skype-In. However, for my own situation, I was the main initiator for an interview, and I did not require this at all.
But when Skype was acquired by Microsoft, my old application that worked as a Skype add-on (which was PowerGramo) no longer worked at all — and PowerGramo soon was retired after that. And then the configuring of Microsoft's Skype became such a jumble of "electronic spaghetti" that I gave up in frustration in using my "old faithful" combination of Skype and PowerGramo. Instead, I sought out and sparingly used other applications like Evaer, etc., to do remote recordings and capturing the interviewee's audio — but it was really not a good substitute for the PowerGramo app (RIP). And so I reverted back to my trusted double-ender method to record podcasts, even though I had to deal most of the work for both editing, finalizing mp3 files and synchronization to create the golden mp3 file.
And to this day, I have relied on the double-ender for interviews — which basically limits my current interviews to other podcasters.
---
Ben Krueger on recording a podcast on Skype
In the 2021 post by Ben Krueger, the theme of using Skype is discussed in detail by Ben with his declaration that he would "be breaking down everything you need to know about how to record a podcast on Skype."
In addition to having a properly configured Skype program on your PC, you will need to have properly configured call-recording software to create an audio file from the interview or discussion (remember, I had used the older program, PowerGramo, as my call-recording software). Ben gives examples with Ecamm Call Recorder and also  GarageBand, Audition, or Audacity. He also mentioned  Piezo by Rogue Amoeba. He also mentions Audio Hijack.
He continues "If you have a PC, you will want to use the professional version of Pamela for Skype."
Also, the topic of using Zoom comes up when trying to record a podcast by using the in-built recording feature. And then he highlights a tip for creating video: "Even though you may not see an immediate use for the video content, you should record it regardless. Further down the line, you may want to leverage the video content from your recordings on platforms like YouTube and Instagram."
---
So these tips may be good for you to try to prepare remote interviewing, and Skype may or may not be the best choice for you as a podcaster. If you want to try Skype for remote audio capture, then I would suggest that you consume this post with all the details that Ben gives you.
And remember that a double-ender is still a great solution when you are interviewing a remote podcaster. It may seem like more work. But the creation of your audio file, downloading your interviewee's audio file, synchronizing both tracks of audio, adding your music, intros, outros, and other content (like bumpers, etc.) may well be worth it — for you can form a good workflow for you to have a great-sounding interview of episode with your co-host.
I will continue to rely on my double-enders and only use Evaer as remote recording software when needed to capture the remote interviewee when the double-ender is really not an option.
I hope that you, as a podcaster, can decide if Skype is for you, along with all the other options mentioned above. Whatever the case, I wish you success in creating a smooth workflow that works for YOU, and that your remote interview or co-host episodes will add to your success for your show.
Thank you for your attention.
Copyright (c) 2021, Matrix Solutions Corporation and michaelandmike.com and Ben Krueger of cashflowpodcasting.com. All rights reserved.