Podcast: Play in new window | Download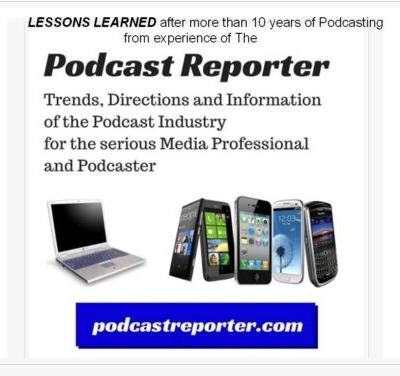 In this episode of The Podcast Reporter, we discuss a recent article that tried to describe resources that would make podcasting simple and easy for entrepreneurs (and content creators). The headline for this article from podnews.net is "Caproni: Podcast Publishing for entrepreneurs."
So, investigating the content of this article, we find the claims that these resources (Caproni) would render "delightfully simple podcast publishing…" for a series of audiences (i.e., rebels, entrepreneurs, etc.) who have no time to learn and manage any tools,  and so growing and publishing a podcast can be done with "one easy use tool."
Now, for this podcaster, I tend to be more skeptical, because for the past 15 years, I have seen announcements and press releases that have been claiming to be the "one-stop-easy-shop" for doing this. And every time I examined the tool, I was not only disappointed, but many times the tools left a sour taste in my mouth (and the claims were just marketing hype).
So, with this article in podnews.net, you can actually go to the link to get more information and a demo and actually sign up for a trial of the resources. The trial will last for 5 months or your fifth episode, which seems to be a reasonable time for testing.
The article not only lists some of the podcasts hosted on this platform, but also makes other claims with the section called "Batteries included podcast publishing" and the sub-section called "Sell ebooks, pdfs and digital goodies marketed via your podcast… because you get to keep all of what you make."
How can this be? you may wonder.
Well, the article claims that "everything you need" is available to you, including:
"Publishing on Apple Podcasts, Spotify, Google Podcasts & more!
 Website on your own domain
 Analytics
 Unlimited podcasts
 Multiple login accounts
 Grow with referrals:

Feature landing on Spring

 Publishing on YouTube:

Feature landing on Spring

 Automated transcripts:

Feature landing on Summer

 Full control via API 

Private Beta"
Of course, like all marketing promotions, the testimonials follow from their customers. And as for the pricing, you can choose to sign up for either $18 USD per month or $48 USD per month after your trial. And the quote that they have about acquiring the tools is: "If you love it, keep it. If not, we can migrate your podcast to the platform of your choice."
Now, I myself would not have tried this, as I am not a journalist employee of a publishing company that does reviews for compensation nor do I have a column in either a hardcopy or electronic magazine.
However, for an aspiring or new podcaster, this may attract the eye of someone who desires simple, easy and powerful tools to assist in getting podcast shows up and running in the podosphere. And with a free trial of 5 episodes, you really do have enough time to see if the time savings for learning other tools is a great benefit for your own show.
However, for the seasoned podcaster who has his own workflow that really works well for today (and planning for improvements for tomorrow), this may be something to be investigated whenever there may be some free time available in the future — but possibly not a priority today, as there are other projects besides publishing (like planning, marketing, promotion, sales, development of new products and offerings and social media activities).
So I do applaud the creativity of the developers of these tools, but again, I strongly recommend that you check out some of the podcasters who give their testimonials on the site and see exactly where they are in their skills curve and determine for yourself if this is a good investment for you — because the most valuable and costly investment is that of YOUR TIME to acquire, install, learn, exercise and use the tools and then analyze the results in a cost-benefit analysis.
Thank you for your attention.
Copyright (c) 2021, Matrix Solutions Corporation . All rights reserved.