Podcast: Play in new window | Download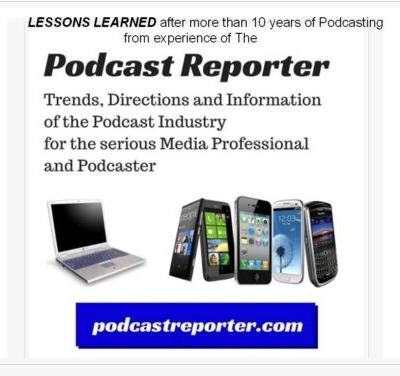 In this episode of The Podcast Reporter, we deliver an updated version of an earlier episode that has been mostly repurposed. It deals with listing some strategies for you to become a speaker or presenter or demonstrator in the exhibit hall or "virtual exhibit area" at a podcasting event or conference.
If you have attended New Media conferences or other podcast events (such as those mentioned, above), and if you have never been a speaker at such an event, perhaps you are wondering if you should throw your name in the ring and be a speaker or panelist at one of these events.
If you are relatively new into podcasting — or if you have been a podcaster for a time, but have been reluctant to apply as a speaker to an event — you may want to consider the strategies dealing with the commitment of being a speaker and participate in these events.
In this episode, we will quickly try to examine in an overview format both the benefits, as well as the detriments, of being part of a key event as a podcaster.
So what is my own background as a speaker in Podcasting (2006 to 2021)?
This Podcast Reporter has been involved as a speaker and presenter in podcasting events since 2006. In San Francisco, I began as a speaker at the 3rd Podcamp. After that, I had been a speaker at multiple Podcamps in San Antonio, Texas, and other locations nationwide. Also, I had spoken at the New Media Expo (in 2011), as well as The New Media Expo podcasting tract until 2015 (the last NMX show). I also shared the stage with Jay Ehret of the Marketing Spot podcast show at a ProductCamp, as well.  I was also a session speaker since the very first  Podcast Movement conference, etc. And then my product line advanced into not only podcasting, but screencasting and video content creation and marketing.
In addition, I had been an instructor in multiple locations and taught the course of Podcasting 101 to various audiences (both public sector and private sector). And I have been a podcasting consultant and video training screencaster for the last 9 years.
---
Thus, I would like to review the attractive benefits — as well as some possible detriments — for you as a podcaster in becoming a new speaker at these events.
A Key Strategy: Review Events and pick the one(s) best for you
Since conferences are money-making events for those who plan and stage and produce and hold them, there is usually a lot of confusion and hype in reviewing a show or conference. You have to go through the exaggeration and hype to get to the real matter and content of the conference to see what audiences can benefit and what you can get out of it for your business or podcast.
BENEFITS: Why be a speaker or panelist participant
Recognition as a subject matter expert–
Opportunity to grow your audiences and subscriptions–
Obtain skills to improve your public speaking and training —
Enjoyment of educating and training others —
Benefit of conference costs: the admittance to the event and a possible virtual ticket —
Face-to-face meeting with key podcasters and others (for live in-person events) —
Possible education and training in podcasting —
Striking up joint ventures or other business relationships —
Launch or Pre-launch activities or venue for your offerings —
Promotion of your podcast, products, offerings or services —
Possible success in sales of your offerings or services —
Leads for future profitable ventures or sales —
The enjoyment of educating and helping others —
Enjoy the in-person or virtual community with other podcasters —
Possible "Sneak-peek" at offerings in an exhibit area or demonstration arena, either in-person or virtual —
Create content in a "podcast" booth or "pavilion" booth or setting
Gain credibility in getting interviews as a speaker or bumpers
Possible Detriments: Just be content as an attendee
 Commitment of costs i.e., funding travel, lodging and other expenses (for in-person events)–
Time away from your business (a hidden cost, but one that could be very critical in both virtual and in-person settings)–
The internal fear of not living up to your expectations — "fear"–
Perception of the reception of your presentation from your audiences–
Perhaps the inability to promote or sell your offerings —
Bad timing prior to your launch or pre-launch —
Family life or personal life or business commitments are not right —
Get content from interviews with podcasters or bumpers
Alternative: Do not attend in person — Only get the Virtual Ticket
The Virtual Ticket (if offered) – benefits
The Virtual Ticket — missing the Q/A, in-person buzz and exhibits —
Perhaps the best value for your budget, time and business —
---
What is your strategy for you and your business in Podcasting?
As you can see, there are several conferences available, and they seem to grow in number (even the virtual events) every year.
You have to determine if you want to have the notoriety of being a speaker, the ability to place this on your resume or CV, and enjoy the benefits of presenting or participating as a panelist in an event or not.
For myself, if my health would allow me, I would still both attend the in-person sessions and/or  speak at a podcast show or event. As a podcaster, I would still embrace all the benefits — because it would be right for me and my business.
However, YOUR business strategy and podcasting strategy will help you to review your options and determine which is best for you.
Thank you for your attention.
Copyright (c) 2021, Matrix Solutions Corporation. All rights reserved.