Podcast: Play in new window | Download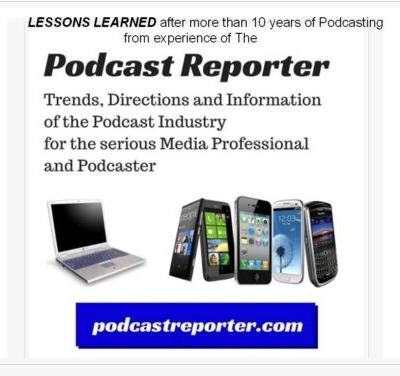 Yes, that's right. As we predicted in a past episode of The Podcast Reporter show, the Plandemic of 2020 (due to the fearmongering of the "lame-stream" media) has forced the PodcastMovement.com team to cancel their inbound (in-person) event scheduled for August, 2020  — and switch the event to only a virtual (online) conference.
The email notice went out on 22 July 2020 to subscribers to the PodMov Daily newsletter (as well as past attendees of the Podcast Movement 2020-Evolutions conference).
The notice also stated an "early-bird" pricing structure that is valid for just a limited time. The rates for participation stand (at this time) for $99 USD or $199 USD or $599 USD. The web site has a description for the value to be delivered for each of these prices. And the registration is available online at the PodcastMovement.com site.
For this podcaster, I am investigating the value that I could derive from this type of virtual event in the same way that I would explore and plan for attending a live event (which would normally incur costs of travel, lodging, food, etc.). For example, I am anxious to see the schedule, the speakers, the time frames, etc. However, at this time, both the details for the speakers and schedule and other sessions are still being created. And thus, I will wait to see when they will be delivered online.
In the meantime, I plan to contact the key people whom I would normally interview or make contact with at a live event to see if they would be speaking (or had submitted an application to speak or present). In my communication with them, I would schedule a time and date during the event to have a telephone chat with them (normally during breaks or before/after sessions and keynotes). And this would have to suffice for my not being able to speak to them in person or interview them on the show floor of what would normally be the exhibit hall of a live event.
And thus, this would be the value for me to join this community and register for the virtual event.
But what is important for me as a podcaster is to do the right type of planning for participating in a podcast conference event. There is no change in trying to determine the ROI for this event — although the normal ROI would have a lower amount of investment in cash or money, and thus have much of the TIME and attendance in the participation to gauge a possible return for me. This would include checking my possible results against a list of my planned objectives in detail to determine if this event is right show in which to participate as an attendee.
Obviously, I myself have not applied to be a speaker or presenter or member of a panel at this event. But if I would have wanted to participate in this way, I would also put into the ROI plan the amount of time and effort that I would have to spend in preparing for my participation as someone other than just an attendee.
If you, as a podcaster, were wanting to speak or present or participate in a panel, then I would suggest that this type of planning also be included into the objectives vs. effort vs. results in your ROI plan.
So, in the meantime, I see myself possibly registering as just an attendee at the $99 USD rate (since some of the critical details are not available yet), and then ensure that I am aware of what the cancellation processes are (just in case I don't feel that the value would be there). However, I think that this latter possibility would be very low if my contacts would confirm that they would also participate or attend this virtual event.
So, if you are planning to participate and attend the virtual Podcast Movement 2020 event in October, we hope that your planning for the event and the preparation of of a good ROI strategy would confirm that this event would add to the positive success of your show and bring you the profitable podcasting environment for you.
Thank you for your attention.
Copyright (c) 2020, Matrix Solutions Corporation and PodcastMovement.com. All rights reserved.