Podcast: Play in new window | Download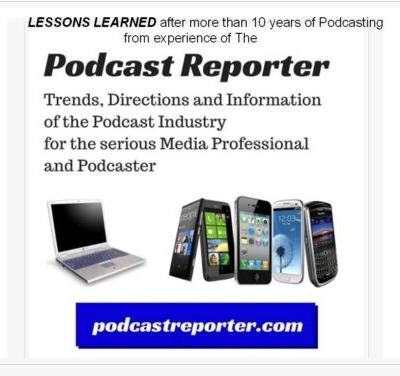 In this episode of The Podcast Reporter, we deliver a REPURPOSED podcast episode on the topic of examining a case study of becoming a full-time podcasting entrepreneur from an earlier status as a hobby-preneur. We do this without music intro or outro, as the episode was recorded in an empty hotel lounge with construction and other ambient noise on a portable recorder.
As you will hear in this REPURPOSED audio episode, a hobby that you can pick up and enjoy (because you may have a "passion" for it) can be a "labor of love" at first. For me, it was podcasting. And then, after a while, your expertise will grow and you may see others in the podosphere being successful in monetizing podcasts within their businesses. And this activity may spawn the desire inside you to join the small business owners who podcast and make revenue from that hobby that can now become a revenue stream (toward perhaps a full-time business activity within your entrepreneurship).
And so, the passion that I had led me to create more podcasts. And then you can compare other environments and see how you can be a small business and lead the way with podcasting. In this case study, I actually compared my podcasting to working with automobiles — developing a hobby to become eventually a small business or startup or entrepreneurship.
Now, I have had prior experience in starting businesses since 1980. And so, I used the "hobby" and put it in "idle" mode, running and available for me — until the time arrives for me to be serious about the podcasting environment and move into the podosphere when I would launch an entrepreneurial venture and possibly be FULL-TIME. And I would position podcasting within the business environment, business model and create content or be a consultant. And, as you will hear, I did go down the path of being a luminary and subject-matter expert, a solution provider, then a trusted advisor, and finally a THOUGHT LEADER.
Perhaps you can relate your own situation with my story — especially if you want to become a thought leader and starting from a hobby.
We hope that you will enjoy this story of how I took a "hobby" and became a "hobby-preneur" and then moved into an entrepreneurial venture with podcasting. Although this episode was originally slated for a podcast show that was called "Boomers for Startups" (which has podfaded), it may provide evergreen content that can provide relevant VALUE to the aspiring and new podcasters.
Thank you for your attention.
NOTE: We do not have the active links which were mentioned toward the end of the episode, because they were out-of-date and many have been withdrawn. Thus, we just will go with the audio for the show of this REPURPOSED episode.
Also, we addressed the "necessity-preneur" in another episode, because with the virus crisis, many may have the NEED to become an entrepreneur, even though that was not their intended path or their desire at the time — but they had to provide for themselves and had to generate income in some way quickly.
Copyright (c) 2021, Matrix Solutions Corporation . All rights reserved.