Podcast: Play in new window | Download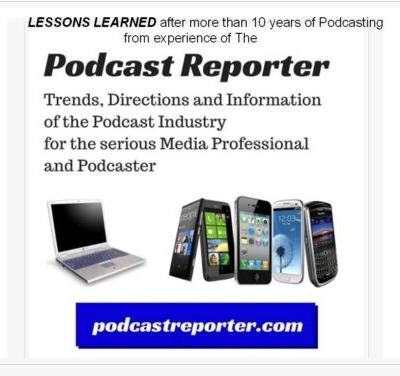 In this episode of The Podcast Reporter, we review a post by Mark Asquith of rebelbasemedia.io in which he reviews the five "must-have" items for creating a podcast website that will "stand out."
As an experienced podcaster, I wanted to see what he would include in these necessary items for aspiring podcasters. The reason I did this is that I had seen his video titled "How to record a podcast episode: software and setups for all budgets" — and I was interested in what the absolute requirements were mentioned for a podcasting web site.
Well, I saw the main sections of this blog post about a podcasting web site, and he goes into detail about each one. They were:
Include a web magnet (and he refers you to a site that explains how to create a lead magnet;
Get involved with your podcast (and he gives several examples, such as contributions, questions or feedback — as well as a private  podcast or bonus feed);
Have organized and optimized pages (and he includes a reference to Evo Terra of PodcastPontifications.com as an example:  "Evo Terra's revamped website places a lot of emphasis on his written content. Every episode has a transcription, full show notes and is tagged to make navigating his vast content library super easy.");
Include a SPONSOR KIT, which should have the following:

"What you'll provide for them – what does a sponsorship include, and how much will it cost?
Your previous ad-reads (if you have them)
An overview of your stats, including downloads, unique listeners and listener behaviour
Information on your demographic and audience
A contact form to call to action to get in touch.
A link to your PDF sponsor kit."

A guesting page (with speaker and guest profiles and other needed promotional and preparation information pertaining to guests for your show).
And the main conclusion for this post is:  YES, you DO need a podcast website, if you are serious about becoming a professional podcaster and stepping into the world of monetization.
---
For this podcaster, I have used in the past the models created and espoused and delivered by such pundits as Paul Colligan and others to fill these requirements — and deliver many more for me.
Of course, Mark is monetizing his call to action to have you, the podcaster, engage him to help you create these sites for your podcast show.
Now, you can ensure that you have included these (or something like these) items in your website, or you can farm it out to a third party (of which there are many). But the important things to get out of this post is for you to check against your own show and website to see if you are including — or missing — some of these items. And a good checklist is always a beneficial idea for you, as a podcaster, to review.
Thank you for your attention.
Copyright (c) 2021, Matrix Solutions Corporation and Mark Asquith of rebelbasedmedia.io and michaelandmike.com. All rights reserved.