Podcast: Play in new window | Download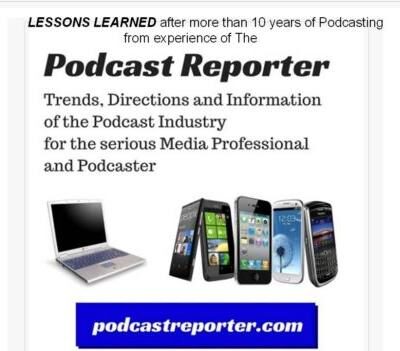 In this episode that supports both PodcastReporter.com and 2030Podcast.com, we explore from experience how negative results can come from a podcaster who becomes obsessive with podcasting. For the most part, the examples come from my own experience for the last 18 years (when I started getting into podcasting).
The model that many podcasters had since their beginning is the following:
First, they publish a podcast show and its first episodes;
Their elation is high and they result in excitement and success;
They then feel that they must start more podcast shows;
Soon, when they get more ideas, they create and publish even more podcast shows;
In my experience, I had 16 podcast shows within the first 4 years of podcasting.
However, with each new podcast show, I devoted less time to the quality of the content of my flagship podcast shows;
I found that I lost time in promoting shows;
My interest went into attending, speaking and participating in live inbound podcast show events (e.g., conferences like New Media Show and also podcamp events;
My show notes grew very thin and I started losing interest in both content quality and regular consistency in publishing of my then 16 current podcast shows;
Thus, I began to podfade each show and reduce the overall time of podcasting, as I felt that I was burning out.
So the net of my experience as that the excitement and thrills in publishing podcast shows grew to a very high level, but the cost of that made my shows suffer in quality, content, consistency — and the end result was that of being close to burnout (especially when I had to travel to attend and present at shows and conferences — especially when I had to prepare the presentation).
I say this only to warn those whose excitement leads them to begin a second or third (or more ) podcast show after having completed their first show and venture into the podosphere. Also, I wish to give a sign to those who start multiple shows and then try to monetize them quickly — within a month to six months — and wonder why their success has not brought them to financial glory.
I myself have had the negative experience of both burnout and unsuccessful shows, as well as negative comments from episode reviews in the past. Now, I did start my last podcast show as a "fun" or "hobby" podcast, with no expectations or promises of consistency or promotion and no expectation nor desire for monetization. It was called the Grumpy Old Bears podcast show, and my co-host has come and gone, then returned and left again — he himself has almost burned himself out and has overwhelmed himself with too many commitments due to the excitement of being involved in numerous projects. And thus, there is NO expectation of commitment from this show, and for us, it is a periodic release of frustration and the ability to just laugh and  mock society and present day events. It is for laughter, and that is why we consider it a "comedy podcast show."
So from this podcast reporter and struggling entrepreneur, I'd like to thank you for listening, and "we'll see you next time."
Copyright (c) 2023, Matrix Solutions Corporation and michaelandmike.com. All rights reserved.