Podcast: Play in new window | Download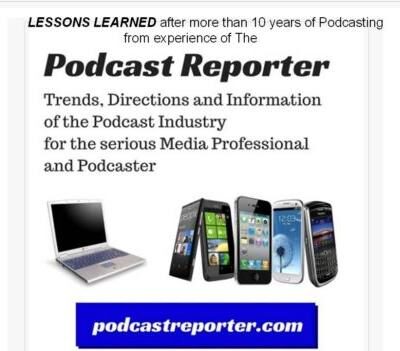 In this episode of The Podcast Reporter, we deliver some thoughts as to the strength of podcasting today — including the fact that anyone can say anything and deliver content to specific audiences without the threat of being shut down, censored or inhibited (that is, if they wish to fight the corrupt lame-stream media).
Of course, this content will also be repurposed in the podcast show called 2030Podcast.com under a different episode number.
What are these qualities and characteristics of podcasting that make it such a desirable tool for those (like myself) who wish NOT to be censored or corrupted by both the Democrats and the lame-stream media?
podcasting still does not succumb to tyrannical censorship or punishment for publishing content;
podcasting is still not under censorship (except by advertisers and the media);
podcasting allows the podcaster to deliver a message free of pressure or intimidation or prohibition, even though government wants to control and censor its content;
AI can be used to manipulate content by those who oppose free speech or try to censor it;
However, AI does NOT have to be used — the human element that can fully create, edit and publish humanly created content can still be a tool for free speech;
at this juncture, AI is still inferior to the thoughts and the minds of the free-thinking humans, and it is not sophisticated enough to become a credible source to censor a podcaster;
You can still create your content as a podcaster and publish it without the fear of the lame stream media and the social media corrupt platforms;
You still have a choice or two of podcast conferences where the woke element has not yet invaded and controlled attendance and expression — the worst of all conferences that has its tentacles for controlling free speech, open dialogue, expression and civil liberties is the notorious PODCAST MOVEMENT (and the audio will explain why);
Podcasting can be targeted at a single or multiple audiences, and the recipient of the content does NOT have to be weary or scared of the lame-stream media or the radical democrats or the censorship machine of politics to prevent reaching out to your audience (and the examples are cited in the audio).
Some key examples of the free speech of podcasting are in the shows called No Agenda with Adam Curry and John C Dvorak, Randumb Thoughts with Darren O'Neill, Grumpy Old Bens with Ryan Bemrose and Darren O'Neill — as well as several others who have their content streamed on noagendastream.com.
And remember, you can always use THE SINGLE HUMAN TOUCH AND ELEMENT in a podcast without the intrusion of any AI to try to control you.
Thus, we hope that you, too, can practice your freedom of speech and expression and publication by using the platforms of independent podcasting — yes, there is a minimal charge for tools and hosting services, but we feel that this may deliver to you the last area of free speech while the progressive and radical left try to control everything to their own narrative and exclude what is not theirs.
Thank you for your attention.
Copyright (c) 2023, Matrix Solutions Corporation and michaelandmike.com and No Agenda and Adam Curry and John C Dvorak, and Darren O'Neill and Ryan Bemrose.  All rights reserved.