Podcast: Play in new window | Download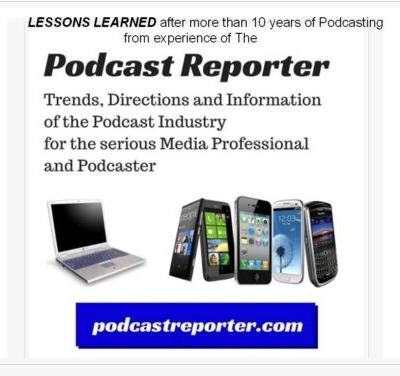 In this episode of The Podcast Reporter, we deliver a repurposed podcast episode from an earlier episode (number 120) that deals with recovery from past situations that did not succeed or recovering with what was called "an escape hatch" (and the beginning introduction of the episode delivers the quote that inspired this theme from the older podcast show from Todd Henry called "The Daily Creative" — the latter of which is still on hiatus). By the way, Todd also has a 16-year old podcast show still going called The Accidental Creative.
We feel that this repurposed episode still provides evergreen value to the podcaster who may be experiencing the beginning or in the middle of a negative situation with a podcast show. And with the pivoting or the "escape-hatch" that has been pre-planned, there could be some hope for recovery and even repurposing the deliverables and strategy to a new alternative. And, as you will hear in this repurposed audio episode, the case study of Cecil B. DeMille and his success later on with his film called The Crusades provides hope for the struggling podcaster with good content.
The lesson learned here is to plan for a good exit strategy or prepare your "escape hatch" early in your business, so that your podcast can have an alternative if and when you may encounter difficulties.
So we hope that you can achieve success in the event that you may have to rely on your "escape hatch" to steer your podcast and business in an alternative direction or find success in a re-launch of your content to a willing audience that will help your show to its success.
Thank you for your attention.
Copyright (c) 2021, Matrix Solutions Corporation and michaelandmike.com and Todd Henry of theaccidentalcreative.com and The Daily Creative. All rights reserved.