Podcast: Play in new window | Download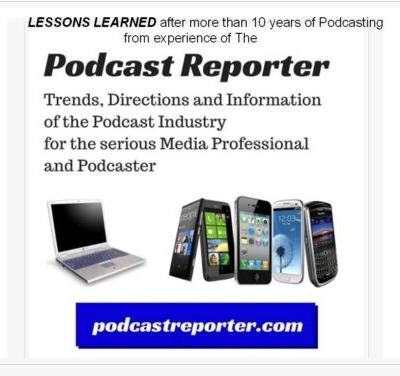 In this episode of The Podcast Reporter, we deliver a REPURPOSED episode (it was episode 101 of this show) where we discuss the theme from Paul Colligan of The Podcast Report and Dave Jackson of The School of Podcasting about the value and results from reviewing a podcast episode and show vs. the Social Media post (or what Paul Colligan refers to as "the quick hit.").
As you will hear in this repurposed episode, the comparison and contrast is that of a requested deliverable (usually by subscription) like a podcast episode that is designed for CONSUMPTION as opposed to the "shiny object" like the social media post that usually results in just a momentary quick hit.
---
As for myself, I have been off the social media for now quite a few years, and it has been a healthy and remarkable experience — healthy in both body and mind and soul. In other words, as Adam Curry of the No Agenda show states, I am "OTG" or "off the grid."
I firmly agree with what Paul Colligan summarizes in his article, and what the end thought of this podcast episode is — that social media posts are momentary, quick hits of emotion where you are being spoken down to, as well as brainwashed. And also, the podcast episode is a deliverable where you can do some thinking, contemplating, and judging or acting upon the result — in other words, CONSUMING.
Yes, this is consumption of the podcast vs. emotional momentary quick hits of social media without having the real benefits of consumption.
Thank you for your attention.
Copyright (c) 2021, Matrix Solutions Corporation and michaelandmike.com and Dave Jackson and schoolofpodcasting.com and Paul Colligan and ThePodcastReport.com. All rights reserved.