Podcast: Play in new window | Download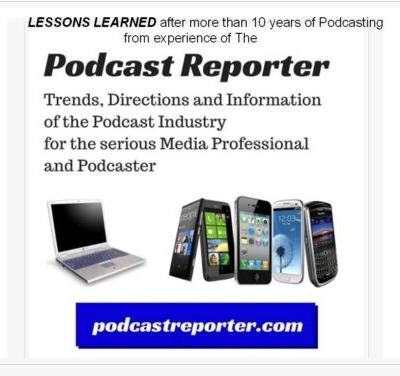 In this episode of The Podcast Reporter, we honor the trail blazed by pundit Paul Colligan of ThePodcastReport show, as we deliver a car-cast podcast episode here.
I have delivered car-casts before, the last one in 2007, when my mother had surgery — and I had recorded my car cast while I was in the automobile in the parking lot waiting for the several hours to pass as her cancer operation finished. Unfortunately, she had passed away in 2018.
But for this episode, I used my old and trusty Zoom H2 portable recorder with a very inexpensive microphone and headset that I had used in 2006 and 2007 when I did a "roving reporter" review at the first Podcast and Portable Media Expo in Ontario, California. So, although the tech is inexpensive and old, it served its purpose well and delivered me some excellent recordings. And, yes, I did need to do some post-production on the resulting audio files.
And although this recording was a renewable experiment to go back to some of the beginnings of my podcasting career, I enjoyed the fact that a battery-operated Zoom H2 recorder stood up to the job once again. And this is in spite of not recording while driving, but just recording while I was waiting in the post office parking lot while I waited to mail my business taxes to the IRS.
As you will hear in this audio episode, several short topics were discussed — including the upcoming possible Podcast Movement conference in Nashville, Tennessee. I also included a bit about the Podfest Global Summit that started today online.
As an experienced podcaster, I do encourage you to use your portable recorder to plan for — and to record and publish — a car-cast.
As I mentioned at the start of this episode, I listened faithfully to one of my early mentors, Paul Colligan, as he made use of his time while in the car and recorded to his hands-free recorder the episode in which he delivered some great content on his thoughts. Not only did he record on ThePodcastReport.com, but he also recorded car-casts to his secondary show, Thinking Out Loud. And I always enjoyed them — as he described the tech that he was using at the beginning of each car-cast episode. And, as you can hear, I am emulating him, as well, by describing the tech at the beginning of this episode.
Thus, I hope you do get a chance to provide some variety to your listeners by delivering a car-cast and show your audience that you can be flexible and in the words of Ricky Nelson from his song, you, too, can be a "travelin' man."
Thank you for your attention.
Copyright (c) 2021, Matrix Solutions Corporation and Paul Colligan and michaelandmike.com. All rights reserved.