Podcast: Play in new window | Download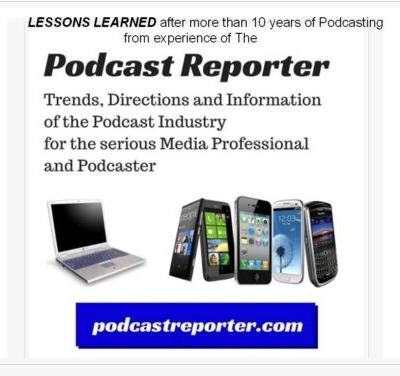 In this episode of The Podcast Reporter, we wanted to start off the new year with a topic that can give you a strong reinforcement of your individual will and determination — that is, if you really believe in yourself and have the spirit in your gut. Thus, we deliver a REPURPOSED episode from another podcast show that is very relevant in the world of podcasting. The theme for this episode is a true case study of my own story that describes the environment when conventional wisdom and customs and consultation and recommendations may NOT apply.
This is a look back at how the term PODCASTER can be used in a situation to describe yourself and your value to customers instead of terms that are so overused and general that they may get lost in over a million podcast shows.
What determines your value and what describes you best may actually be your skills and your tech — especially if you deliver to your prospects something called a value proposition or a PROOF OF CONCEPT. Now, this will prove that you have the ability to meet their needs and requirements with great quality. So are you a "solution provider" like so many other thousands of podcasters? Or are you a podcaster whose skills and PROOF OF CONCEPTS can stand up to the best of them?
---
And in my situation for this case study, it proved to be the competitive differential advantage that landed me contracts and referrals — instead of using the same, trite, overused descriptions of being a "solution provider" for every problem in the book.
As you will hear in this audio episode, I had to take sharp criticism (and sometimes this can turn into verbal abuse and ridicule) from just about everyone in the podosphere at the time. And that may be the price you have to pay in order to succeed with your own instincts on what should work for you.
However, we wanted to let you know that sometimes the conventional wisdom of the day may NOT be the best road to success. That is why podcasting is still a great environment in which to pursue success, because there are always some other ways to pursue it.
Note: This episode appeared before as episode #60 in a podcast show called The Struggling Biz.
Thank you for your attention.
Copyright (c) 2021, Matrix Solution Corporation and Lon Naylor of screencapturevideo.com . All rights reserved.