Podcast: Play in new window | Download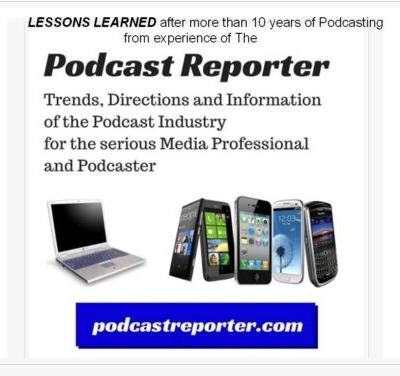 In this episode of The Podcast Reporter, we present the argument from Ben Krueger that the common advice given to "just start" may be the wrong advice for having a successful podcast show. After we see why he says what he does, we bring in my own personal opinion from my own history when I "just got started" into podcasting. And we end up with a thought leader in the Podosphere, Paul Colligan of The Podcast Report show who is a mentor himself and helps aspiring podcasters to be prepared to monetize their shows and business podcasts.
---
First, let us see what Ben Krueger had stated in his email:
""Just get started!"
That's the advice I hear all the time given to budding podcasters.

Yes, it's true that taking action is better than getting stuck in the planning process. But I still think it gets more credit than it deserves.

Why?

First, "just get started" puts you at a huge disadvantage.

These days, everyone can launch their own show. Sometimes with a budget as low as $200.

So if you start a podcast without a clear attack plan…

And you're just doing it for the sake of "getting your feet wet"…

You end up producing a messy, low-quality show that won't stand out in the crowded podcasting world.

Second, every episode is important.

"Just get started" may get you published quickly…but it won't get you recommended.

If your podcast doesn't leave a good impression, it'll probably end up in a prospect's "do not listen" list.

Now, I'm not saying this to discourage you from producing your show.

But the reality is, podcasting isn't for everyone!

And by doing the upfront work of planning, you'll save time and potential heartaches in the future.

That's why I want to invite you to a free consultation call, so we can see if podcasting is the right strategy for your business."
---
As you will hear in this brief episode, I myself had "just started" my own podcast show in 2006, but I had the help of tools and courses that were available to me:
The School of Podcasting was a program from Dave Jackson that helped me to learn how to prepare a good show and episodes;
I took the course from Jason Van Orden about Learn How to Podcast (no longer available) online and understood the rudimentary steps of producing a podcast episode — especially since there were almost no tools available at the time in the podosphere;
I leaned from the books available — from Podcasting for Dummies to the book by Todd Cochrane and another from Mr. Geohegen and others.
---
But thought leaders like Paul Colligan of The Podcast Report now mentors others and consults with them to prepare a podcast that will have business success for monetization.
And I think that the 2 groups of podcasters — one that podcasts as a hobby or for passion, and the other that podcasts for business with monetization in mind — are what podcasters have to determine when they are sprayed with the words "just get started" by many of the podcasting instructors today.
For you, as a podcaster, which is the path you will follow? And which is the mentorship program that you will pursue and follow if you are serious about becoming a professional podcaster who will successfully monetize the podcast within your business?
And this email letter gives food for thought to the aspiring podcaster for a decision that should be made today.
Thank you for your attention.
Copyright (c) 2020, Matrix Solutions Corporation and Ben Krueger. All rights reserved.