Podcast: Play in new window | Download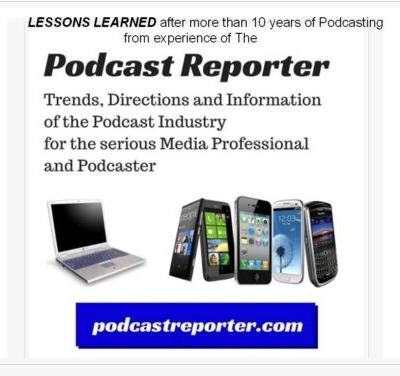 In this episode of the Podcast Reporter, we discuss a common theme for any podcaster with a passion for podcasting — and that is to start another podcast show, but to make it more personal. The case study for this topic is myself and my own desire to prepare and publish another podcast show in the near future, with the episodes that will describe my journey not only in the podosphere, but in life.
One such podcast (which has been around for over 15 years) is that of Dave Jackson's podcast show called "Building a Better Dave" — and which is still being published and episodes being created to this day on an "as is " basis with no set or committed schedule.
In the past, I have been in the podosphere since 2005 and have had, at one time, over 16 different podcast shows ALL AT THE SAME TIME — even though my total number of shows for all my years in podcasting have been 18 shows.
So, after my mother had passed away from alzheimer's and also dementia several years ago, I had an inspiration after listening to a recent episode of Building a Better Dave episode to do something similar — but from my own history and my own passion and perspective within the podosphere.
And so, years ago, I did reserve a domain name of realacademyoflife.com, which would be for my show called The Real Academy of Life — that is, my own academy of experience from my real life. I also secured another podcast domain called podcastscreencasting.com, in which I had planned to publish a show about my experience in New Media from my perspectives on my history in podcasting and screencasting and videocasting.
So, what I planned to do here was to review my reasons for starting this podcast with yourselves, other podcasters, who may have a desire to publish a podcast about their own experiences in the podosphere (regardless of what they are or for whatever reasons you may have had). And thus, I created the inaugural episode in audio, using my own stream-of-consciousness method.
---
In fact, your reasons may be so passionate for the inspiration to create another podcast show that they are crying out for publication and sharing with others in the podosphere. And so I present this case study for you, as an example of documenting what could become a future show for yourself. And it can be a template or an idea that will morph into a great podcast show for you, with possible episodes told by yourself in the first person (or, as is common today, speaking of yourself in the third person).
So we hope that you will receive this example in this case study of a possible podcast show for your own success in publishing your passion. Consider it, if you will, as a Christmas present from myself to yourselves in the podosphere, even though it may be delivered a week early and not on Christmas eve.
And from this, I sincerely hope that your podcasting adventures may include episodes — and maybe even a whole entire show — with your own personal history and passions. And who knows? Perhaps you may even write or create an article or blog post or a separate podcast episode about your own story in creating a personal podcast episode or show on your own "real academy of life."
Thank you for your attention, and wishing for you the happiest of holidays.
Copyright (c) 2021, Matrix Solutions Corporation and michaelandmike.com . All rights reserved.