Podcast: Play in new window | Download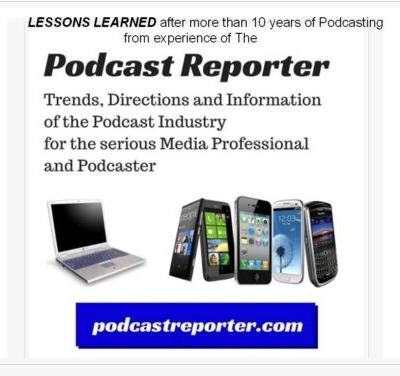 In this episode of The Podcast Reporter, we deliver a REPURPOSED EPISODE from an earlier podcast episode. This happens to have been inspired by an earlier article that I wrote and which was published in the electronic magazine, Podertainment (originally produced by Gary Leland, which had podfaded a few years ago). It had to deal with the theme of New Media Content Creators now turning to the "second renaissance" of podcasting to place their content in the growing podosphere.
In this repurposed article and episode, we emphasize the ability for New Media professionals to repurpose their content — whether from screencasting, video creation, books, pdfs, blogs, articles and other forms of New Media — into audio episodes for related podcast shows which they can create. And this may lead also to monetization and other forms of success.
We hope that you will find this repurposed audio podcast episode of value — especially since the topic is still very much evergreen in the growing area of podcasting (with over a million podcast shows now available, and nearly $2 Billion of advertising in the podosphere.
If you are an aspiring podcaster, we hope that this will provide some impetus and inspiration to plan a successful entry into podcasting and help you grow your revenue and business — and to help you meet and exceed your business objectives.
Thank you for your attention.
Copyright (c) 2021, Matrix Solutions Corporation and michaelandmike.com and podertainment and garyleland.com . All rights reserved.