Podcast: Play in new window | Download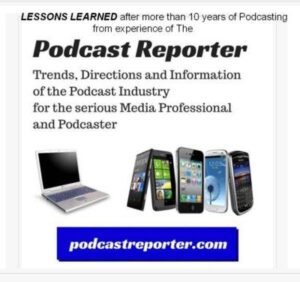 In this episode of The Podcast Reporter, we discuss the possibility of podcaster burnout, as emphasized by Evo Terra in his podcast show of Podcast Pontifications. In an episode of July 29, 2021, he emphasizes the need for balance in your mental health to avoid mental and physical burnout when you have not been able to say "NO" to podcasting opportunities that present themselves to you in many fashions — from interviews, from starting many podcasts as a labor of love, from all the podcasting events and conferences, and from a myriad of other podcasting opportunities.
In this episode from Evo, the warning that is given is one to which podcasters should be aware: "Busy podcasters know that there's always more that can be done. Fans of busy podcasters know that too, often trying to be helpful by highlighting new opportunities. Which, while nice, can lead to burnout."
---
I found this out to be true in my first 5 years as a podcaster. I was attracted by all the podcamps and podcast conferences and podcast events, and I traveled to attend all of them — even though they were fun and I met a lot of great people, I did not have a good business ROI from them, mainly because I was to busy to follow up properly after each event.I also started and maintained up to 16 podcast shows at the same time — until I literally almost burned out in 2011 from too much "opportunity" and too much work and responsibility. I did not put in the necessary time for each show, and thus the process of podfading show by show began. The result — today, I only have 4 podcast shows (in which the last 3 had grown in the last several years after my wake-up calls and close bouts with death due to medical conditions resulting from the complications of Agent Orange exposure from my earlier days as a combat veteran in the Vietnam War.
I then had to realize that my life required some sort of balance, and that I could not renew the fun and crazy world of being a podcaster that kept jumping on 'OPPORTUNITIES' the minute that they crept up or when someone suggested them to me. I mainly ignored a suggestion from a colleague of mine who worked with me during my day-job in corporate America, who said "There has to be a balance."
---
So looking for that balance during the turmoil and the energetic whirlwind of possible podcasting opportunities may blind you going into that mountain cave's lair and seeking to conquer the lion in that environment. From my own experience, I would say that it is more important to be in balance before you step into the abyss of opportunity and attempt to "reap the whirlwind."
The best words that I reflect on are the words of wisdom that Evo Terra has delivered in his episode — after all, he has been a podcaster for over 16 years, and he has seen a lot of pain in growth and in the real world of hardships for podcasters:
Thank you for your attention.
Copyright (c) 2021, Matrix Solutions Corporation and Evo Terra and  michaelandmike.com. All rights reserved.