Podcast: Play in new window | Download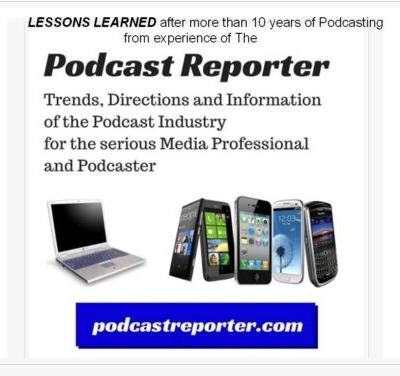 In this episode of The Podcast Reporter podcast show, we discuss how one of the first podcasters in the podosphere (in fact, he was one of the two authors — the other being Tee Morris) who "wrote the book on podcasting", PODCASTING FOR DUMMIES) had recently announced that he was no longer going to be a pundit about all things podcasting.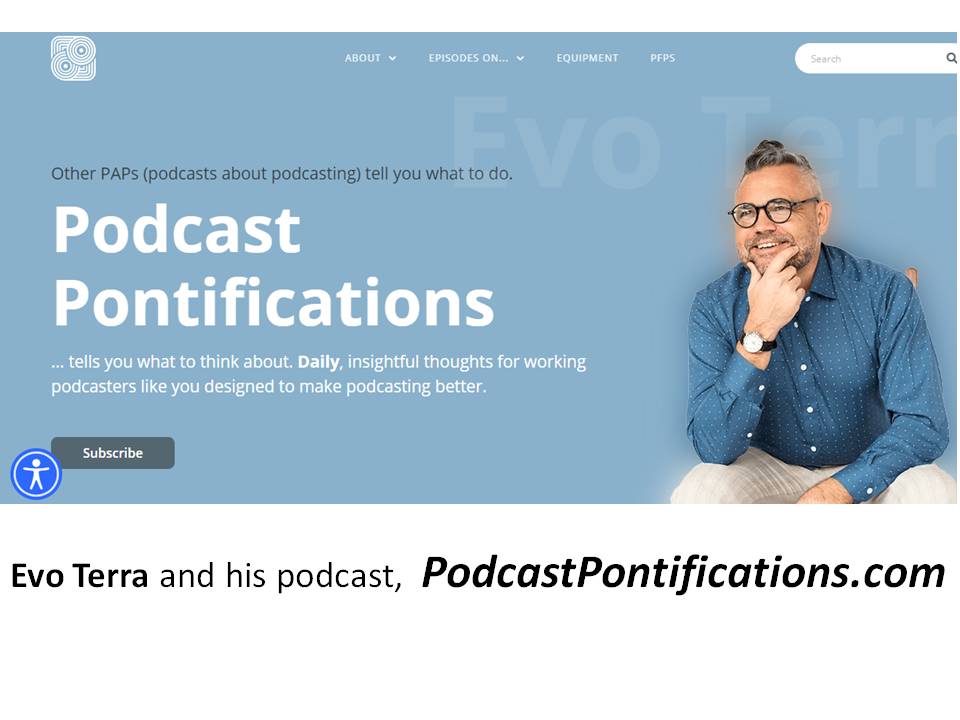 In fact, he mentioned in a November, 2022, episode of his recently finished podcast show, Podcast Pontifications, that he had wrapped up his show. He had exhausted all the topics for himself that dealt with podcasting as a pundit. He was now going into the area of audio fiction / drama as a type of curator, among other things. His new site is theend.fyi.
---
We are describing Evo Terra, who was also known as "the disrupter." He had published over 600 episodes for this last podcast show. He was also flattered to be called "a contrarian."
Now, I myself know Evo since 2007, when I met him in person at the 4th podcast event called Podcamp (very much executed like a barcamp-style event) in Arizona. And since then, I have had several interviews with him for some of my podcasts, as well as having met with him at other podcast conferences, such as the initial podcast movement conference in Dallas in 2014. And Evo proudly proclaimed that he was a professional "contrarian" or "disrupter," as he had new ideas that went outiside-of-the-box in thinking and creativity for podcasting and new media.
So, what were his reasons for content-exhaustion? And where does he plan on spending his time in the podosphere for the near future? You can go to his last episode of PodcastPontifications.com to get all the details, but I feel that he wanted to slow down on the tech and the fast-moving changes in the podosphere — especially in advertising and the way that this was changing podcasting. He wanted to move more into the area of creativity and curation for crime and drama podcasts with multiple media.
---
Now, what does this earth-shattering news mean to podcasters — from the professional podcasters to the hobby and new podcasters?
For this podcaster, it means that both advertising and political themes have dominated the podosphere to the point of making me sick of them. Perhaps other listeners share the same idea, for I do refuse to listen to them. Case in point:  even Evo had become subject to political pontifications, which he did for his last several podcast episodes (and this controversial view may have offended many of the listeners to his show).
However, I do wish the best for Evo in his new venture as he pivoted in the podosphere to his new site of The End newsletter and website for his future work in drama, fiction and live audio podcasting. My best to the disrupter and contrarian of New Media — I feel he may get to a winning strategy with this pivot.
Thank you for your attention.
Copyright (c) 2022, Matrix Solutions Corporation and michaelandmike.com and Evo Terra. All rights reserved.