Podcast: Play in new window | Download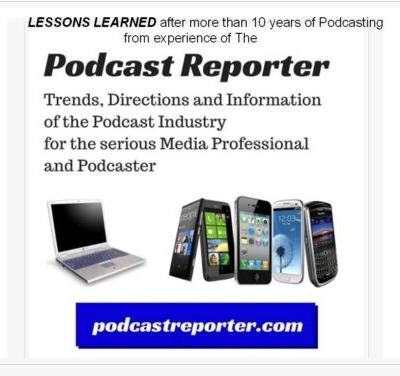 In this episode of The Podcast Reporter, we deliver a repurposed episode about my journey as a podcaster — from passion to downsizing to podfading some of my podcast shows.
As you will hear in this audio episode, there are some "speed bumps" in the journey of a podcaster from beginning to success and growth. And some of them may be:
personal declining health and major health crises;
family health situations that necessitate taking a break from podcasting to attend to elder family members in need;
reaching the limit of content that would be of value to the audience, as it may be time to podfade the show; and
the need to downsize your podcast shows and your participation for other reasons that will not allow you to continue podcasting and publishing episodes with the same fervor, audacity, timing and tempo that you once had;
and others
We hope that this can be of value to the older podcasters who started with me in this journey since 2005, and are now approaching some of these "speed bumps" that may interfere with the podcasting passion — and force the podcaster to downsize and eventually to podfade one or more (or all) of the podcast shows.
Thank you for your attention.
Copyright (c) 2021, Matrix Solutions Corporation . All rights reserved.