Podcast: Play in new window | Download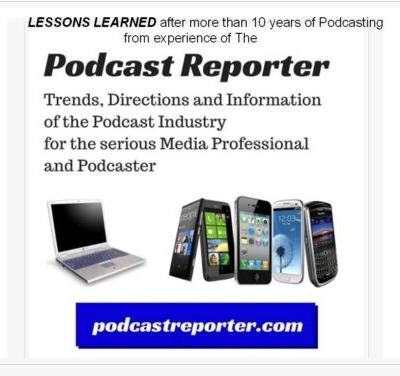 In this episode of The Podcast Reporter, we reflect on a recent brief episode from buzzsprout.com in the form of a six-minute video. The subject was how to collaborate with other podcasters — and what was covered was how to get on other podcasters' shows and how to get other podcasters to come to your show(s).
You can watch this six-minute video at this link:
This video suggests the following ways for podcaster collaborations (that is, by bringing influential guests on your podcast show and being a guest on others' podcast shows):
Make your dream list of those podcasters or guests with somewhat similar relation that would be a good fit for your audience;
Pitch each person on your dream list to collaborate with you (including suggestions for initially getting in contact with them);
Decide which of 3 main ways to collaborate:

Guest star appearance;
Podcast "takeover" — i.e., dropping one of your episodes into the guest's podcast feed to share the episode;
Record a podcast segment for the other podcaster's show.
---
Now, for this podcaster, I have had experience in podcaster collaboration in both getting interviewees for my podcast shows (especially both The Struggling Entrepreneur / The Struggling Biz, as well as Podcast Reporter). And I also used what I learned from these collaborations for my other podcast interviews, such as the ones for veterans' service organizations and podcast meetups. And I have, indeed, used all these strategies from this video at one time or another — and in one way or another — in my collaborations.
And I had developed a type of structured approach and workflow for doing this — from the idea stage, the planning stage, the preparation stage, the communication stage with the other podcaster, as well as the timing and synchronizing stage, the recording stage, the post-production and editing stage, the other podcaster's reviews-and-approval stage, the posting of the episode stage, the publication stage and the promotion stage (with follow-up).
While the video goes into just 6-minutes of an overview, there is a lot more work to doing the collaboration correctly. In fact, I would compare the 6-minute video to the tip of an iceberg — that is, what was suggested is merely 5 per cent of the work involved to do it right.
I sincerely hope that you have all the right pieces in your project plan and project workflow to do podcaster collaboration correctly, so that you can have a successful interview, collaboration and episode — and thus, make your podcast successful.
Thank you for your attention.
Copyright (c) 2020, Matrix Solutions Corporation and buzzsprout.com. All rights reserved.