Podcast: Play in new window | Download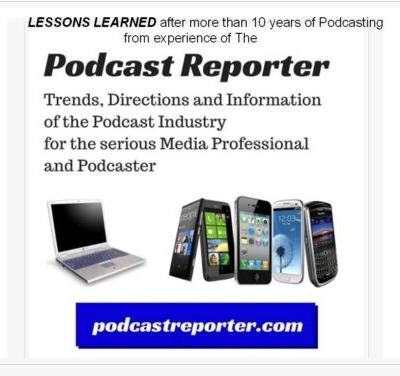 In this BONUS episode of The Podcast Reporter, we deliver the news of a free pdf document called "Podcast Guest Guide."
This came as a promotion in an email note from podcastguests.com. And the summary of this very short pdf document (just seven pages) is as described:
"In this completely free guide from PodcastGuests.com, you'll learn:
1. The value of being a guest expert on podcasts
2. How to put your best foot forward to get booked as a guest
3. How to find and pitch podcasters
4. What you need to do to prepare as a guest
5. How to leverage your podcast guest appearances for maximum impact
No email address is required to download this guide — just click here to view the guide in PDF format! (Or right click and select "save as" to download it.)"
---
Now, after downloading and reviewing this guide, I feel that this could be of value to new or aspiring podcasters. As you step through this pdf document, the words of wisdom for preparation and to present the best of yourself are key.
For example, the ONE SHEET concept is a great one — it almost resembles the one-page resume that was so popular in the early 2000s for those who wanted to seek new employment. Yes, the podcastguests.com site offers a resource to create a one-sheet document. And they suggest that you can send a prospective podcaster your own one-sheet resource for that individual to consider you and your qualifications to be a guest on a specific show.
In fact, the podcastguests.com site also has not only a newsletter that has a listing of podcasts seeking guest for which you can enroll, but they also have a directory (where you can list yourself as a potential guest) in which you can have the podcasters seeking guests come to you.
Then the document gives some suggestions for preparation — both technically and for substantive subject matter content for an interview as a guest. By the way, for the right preparation for recording or joining a recording as a guest, you can refer to the checklist that is provided for free from The Audacity to Podcast from Daniel J Lewis. You can get a free copy of this "Pre-flight checklist" for recording in podcasting. The  better prepared you are, then the better your chances of having a great interview as a guest.
And, of course, one of the most important steps in being a guest or "being interviewed" is the follow-up — something that is covered and emphasized toward the end of the pdf document.
---
And speaking of follow-up, this is a good lead-in to bring to your attention what is said as a key step in a past podcast episode that discusses how to get the most out of "being interviewed." In fact, you should be aware of some advice given in an evergreen podcast by Max Flight that deals with another side of a podcast guest — that of "Being Interviewed." It describes the other aspects of being an interviewee that you should also consider:
---
In addition to these two resources, I also recommend an episode from the back-catalogue and archives of Daniel J Lewis from his show, The Audacity to Podcast, where he discusses being an interviewee, as well. These go farther and deeper into the action steps needed to be both a good interviewer and an excellent interviewee.
With these resources that we present, we hope that your skills as a podcaster can improve and that they will help you to succeed as a professional podcaster and a great guest for other shows in which you can be interviewed.
Thank you for your attention.
Copyright (c) 2021, Matrix Solutions Corporation and podcastguests.com and Max Flight and Daniel J Lewis and michaelandmike.com. All rights reserved.