Podcast: Play in new window | Download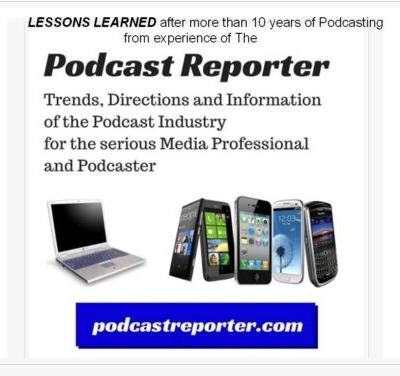 In this episode of The Podcast Reporter, we discuss an earlier blog post that is a no charge site which allows a podcaster to access many categories and listings of podcast resources — from hardware to services, etc.  The site is delivered and promoted by Chris Krimitsos at podcastingresourcesguide.com.
Now, being offered for free, this site seems to be a good idea for the new and aspiring podcasters. So what used to be an arduous task of searching for — and rarely finding — an ideal resource for any part of podcasting now can be more organized and can be presented in a more logical manner to the podcaster. The sub-title of this site is "Find the tools + guidance you need" and as of the date of this post, it is available free (at no charge) for anyone to come and peruse and search the site for any podcast resource, software, hardware, service — i.e., anything related to podcasting.
Adverstisements in newsletters and blogposts call this site "The FREE SUMMARIZED Resource Guide EVERY Podcaster/Vidcaster Needs."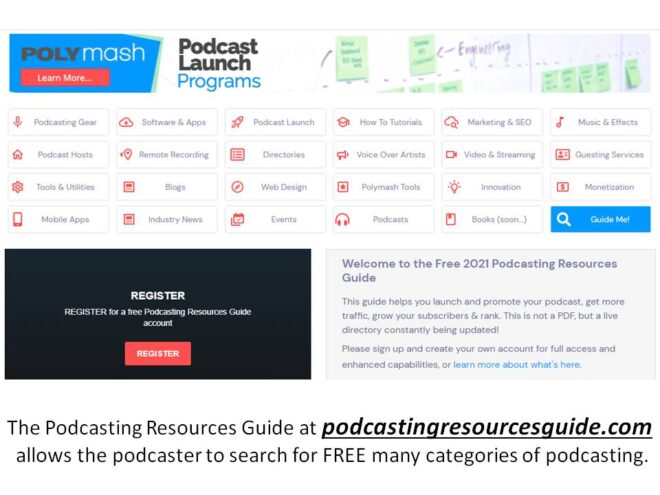 ---
For the past 16 years, I have seen so many sites try to advertise themselves as the "one-stop-shop" or "one-all-and-be-all" of podcasting resources (very much like the wealth of podcast newsletters that have sprung up in the last 5 years, stating that they are the most comprehensive and necessary newsletter for the podcaster).
But, however, this site caught my eyes by the various categories that were delivered. Over 23 categories allow the podcaster to choose from the landing page what tools or resources would be of interest. And if you land on there without planning for your search, there is even a GUIDE ME button that can help a new podcaster, or an experienced podcaster, or perhaps take a question from you.
In my quick search and test of the site for hardware and software tools and devices and programs, I found a number of resources in the double-digits. But this can be a good start for creating a rich library of resources that can be used very efficiently by the podcaster.
However, like so many sites before them, the efficiency and durability of a site like this is the contribution of the podcasting audience who attends this site for searching, as well as the number of resources that can grow with the help of other podcasters in the podosphere — but without having to pay for it.
So while the resource listing is free, I heartily recommend that you go to this site and check out the podcasting resources that are available to you — perhaps not as many as you would like now, but maybe you can help out by recommending a resource or two to be included. Then the site can really help all the podcasters out there.
Thank you for your attention.
Copyright (c) 2021, Matrix Solutions Corporation and Chris Krimitsos and podcastingresourcesguide.com and michaelandmike.com. All rights reserved.