Podcast: Play in new window | Download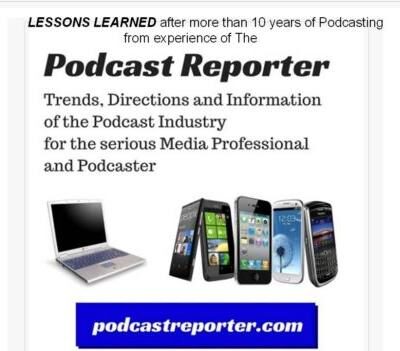 In this episode of The Podcast Reporter Show, we deliver some perspectives from an article that deals with AI audio tools in an article titled "Which AI Podcasting tools are worth using?"
In this article in ThePodcastHost.com, the author examines the idea of AI tools for podcasting, as well as using them to help the podcaster — especially the aspiring or new podcaster — in becoming more productive by perhaps using them in their workflow:
"AI podcasting tools are popping out like bunnies in springtime, promising quick, efficient and superhuman results. These tools vary, and none can exceed human ability, given enough time and resources. But if you need to have a task done quickly, some AI podcasting tools might be worth your consideration. Let's look at processes like scripting and recording, marketing and promotion, and making your cover art or podcast logo. We'll examine AI tools for these tasks, how they work, and whether or not they can help you."
---
The sections in this article describe the following topics:
Text, speech and artificial voices;
Using ChatGPT and AI to a podcaster's advantage in creating content or ideas;
Descript and dubbing and overdubbing voices;
Dubbing media and emotional impact;
Dubb Media and Podcastmarketing.ai
Marketing and PR tools — including emotional impact;
Can AI understand and promote your podcast?
AI and cover art and logos;
Example of AI art generators;
A discussion near the end of the article that asks you, the reader, if you should use AI tools, only because you can.
So if you have been hearing a lot about AI and the tools within this atmosphere, we encourage you to review the general comments in this article. It may give you a better idea of the rage which is now covering much of the podosphere circles — and you will be able to make intelligent decisions relating to the use of AI tools.
We would like to thank you for listening to this podcast episode, and we shall see you next time.
Copyright (c) 2023, Matrix Solutions Corporation and michaelandmike.com and Artificial Intelligence tools. All rights reserved.