Podcast: Play in new window | Download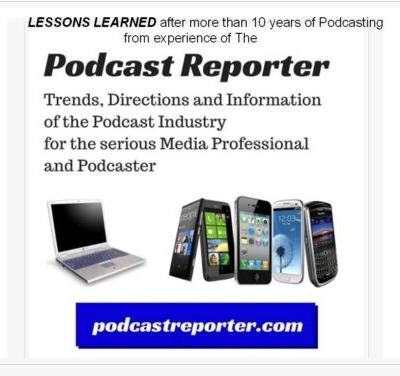 In this episode of The Podcast Reporter, we discuss the theme of double- enders from the viewpoint of the recent article in thepodcasthost.com titled "What are the benefits of double-ender recording?"
Now, in this podcast series, we have explained what a double-ender recording is (i.e., similar to how it is defined in the article:  "where both participants record their own sides of a remote conversation; these are then synced together in post-production — it can make you sound like you're in the same room as your guest, even if you're recording on different continents."
---
In addition to describing the double-ender, Matthew Boudreau goes on to state the benefits of a double-ender for recording interviews at a distance.  He also elaborates on these points:
"Best Method: Hand Recorder";
Professional tip on "syncing";
Good methods using Smartphone Recording;
Professional tip on "microphone choice";
"In a pinch: computer recording"
Conclusion with implementing double-ender recording
---
For this podcaster, I have been using the double-ender since 2006 starting with a handy program called Power-Gramo (which was withdrawn several years ago). However, this program was integrated beautifully with Skype and allowed my audio recording to be on one track and my guest's recording to be on another track. I would get them both and then proceed to synch the audio very easily, then levelate it and perform EQ, and then finalize a quality mp3 audio recording.
As you will hear in this audio episode, for my podcasts with guests, I have used multiple mics and multiple systems for recording double enders — from Zoom H1, H2, H4n portable recorders, as well as interfaces with Shure SM7 and SM58 microphones — to today's use of a Samson Go-mic with a backup recording using a Zoom H4n in the other side.
The only problem I have encountered during a heatwave is the ambient noise that can arise with my co-host having his air conditioner running at bull-blast in the same room with his recording equipment. This then forces me to do noise reduction, which then can alter his audio quality. Another example is when his mic was too close to his computer and received lots of internal noise in his background. But other than those, a near-quiet environment usually will allow double-enders to sound as if the recording was in a studio with each person sitting next to each other and the result is good audio.
So, I would suggest that you, as an aspiring podcaster who wishes to publish guest interviews, should review this article and decide on which model would work best for you and your guests in creating a final mp3 audio to provide value for your customers as they listen to your interview resulting from a double-ender.
Thank you for your attention.
Copyright (c) 2020, Matrix Solutions Corporation and thepodcasthost.com. All rights reserved.