Podcast: Play in new window | Download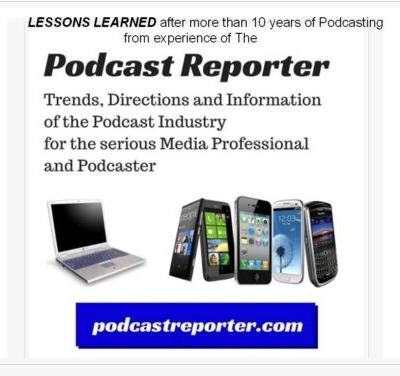 In this episode of the Podcast Reporter, we discuss a case study where a podcast show reached one of their success measurements (no, it was NOT financial growth or revenue streams). The measurements included two criteria:
Being considered a "quality podcast" by the publishers of an ecosystem with the managers of the ecosystem managed by the stream to an audience worldwide; and
Reaching an optimal audience that is filled with people of similar tastes, similar thoughts and like-minded listeners worldwide.
The podcast we speak of had originally one host. And it was brought to our attention since 2014, but it never took off the ground until 2018. And then, in 2019, a co-host was added — and since then, the two co-hosts have been recording episodes with greatly planned content.
In 2020, the managers of an ecosystem that is in the podosphere in managing a stream that runs 24 hours a day added this specific podcast show into the stream and called it a "quality podcast" and also remarked that one aspect of this show (in addition to the relevant and good content) was the audio quality.
Now, with these two factors that are in play in 2021 — both the right audience fit and the publishing of the episodes in this ecosystem that is a stream in the podosphere — we feel that we have met our main objectives to date.
But does that mean that you want to monetize the show?
At this point, no. We are happy to reach an audience of thousands of listeners who are like-minded and that we receive the backing of the managers of the stream.
So, what does this mean to us?
The equation of our "success" so far is that
(relevant content for a targeted APPRECIATIVE AUDIENCE) + (good audio quality) = our first measure of success.
So we are now contemplating how to IMPROVE the show, taking the audience in mind and creating more relevant content.
---
So, how does this show survive?
Well, our answer is that we keep it away from the censors that are available — that is, we do not ask for any Apple reviews or ANY REVIEWS or comments from the podosphere participants.
Why?
Because we know that we want to stay away from the censorship and de-platforming that is done by the social media and others who are trolls that just want comment on negativity (regardless of anything else) with false narratives.
Thus, this podcast show has found a good audience, and the success of the audience embracing the content is proof of its success — and our download numbers prove this. So we do NOT need any Apple reviews, as well as any promotion or marketing. Why? Because we do not need any comments or reviews from the activist and radicals in the podosphere.
And so far, this equation has proven to be a great one for our show.
---
So this is a case study of a podcast show that originated in 2014 and 2015 — but finally was launched in 2018 — and has reached some milestones of success by the feedback that matters the most: the audience and the managers of the ecosystem that supports its listeners.
Thus, we hope that you, too, as a podcaster, can set your objectives to include great audience fit and feedback, as well as publishing it in the right locations and tools to reach a grateful set of listeners. And if you do, then we wish success for your show.
Thank you for your attention.
Copyright (c) 2021, Matrix Solutions Corporation and michaelandmike.com . All rights reserved.