Podcast: Play in new window | Download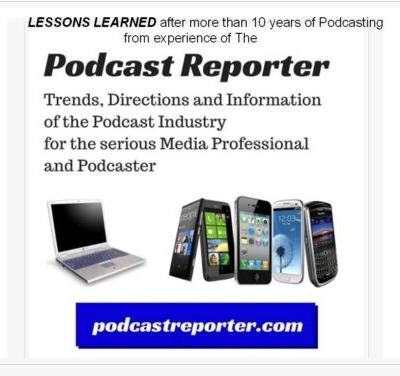 In this episode of The Podcast Reporter, we deliver to you the information that was espoused in Podnews.net newsletters that concerned the etymology of the word "Podcast." And, of course, since this is not an absolute authority, and I, myself, have also some thoughts and concerns from my own experience within the podosphere since 2005.
In an earlier article delivered in the Podnews.net newsletter, James Cridland gives his views on the history of the world PODCAST. And in this post, there are links and audio players that prove the point of origin of both the eclosure and the word podcast in his experience.
"As Eric Nuzum discusses elsewhere here, the first audio referenced by an enclosure tag in an RSS feed was published on Jan 20, 2001; with Dave Winer placing one song by the Grateful Dead into a post, as a test.
Christopher Lydon is generally held to have the published the first ever original piece of audio referenced by an enclosure tag in an RSS feed on Jul 9, 2003…The first program to automatically grab an audio show like this, originally called RSS2iPod, was launched by Adam Curry on Oct 12, 2003…But these audio shows did not have a name. Yet."
---
Next, there is a viewpoint of the word "Podcasting" that takes place, with examples and sound bytes, as well. And it all boiled down to Dave Winer, credited with creating the podcast episode (along with our Podfather, Adam Curry):
The term "is credited by Dave Winer, speaking in Guy Kawasaki's podcast Remarkable People:
Adam had the initial idea for why this made sense at that particular point in time. This was the first meeting that we had, and this goes back to 2000.

He saw me do it, and then he started doing it. And then, I don't know, by September of 2004, there were twenty or thirty people doing [it], and we needed a name. And so we had a mail list and I asked people, "What should we call this?" And a guy named Dannie Gregoire said, just call it "podcasting."

And Adam and I were doing a podcast called Trade Secrets, and on that we discussed it. So let's just go with podcasting, and that's it.

Guy Kawasaki: That's how podcasting got named?!

Dave Winer: What did you think? We hired some kind of a market research firm and they did a focus groups and shit? Come on! That wasn't how it worked!"
And then Cridland also records the words by Adam Curry about the naming of the word. And a section of the post ends with the first mention of the term "podcast." And so, the term caught on, as is stated: "The term was quickly taken up. Adam Curry mentioned podcasting on his blog for the first time on Sep 21 2004; Dave Winer blogged 'what is podcasting?' on Sep 24 2004, by Doc Searls, who blogged about podcasts on Sep 28 2004, and Dan Gillmor on Sep 28 2004."
And then some of the earlier podcasters stated the term, as well, in the media: "As an example that the term was already well-embedded, Todd Cochrane posted the first "Geek News Central Podcast" on Oct 9 2004; and, on the same day, Rob Greenlee posted a comment announcing the new name on the Web Talk Radio Show website. Evo Terra followed on Oct 13, 2004."
---
The post finally ends with the question of "who invented the term podcast?" And so, the final reply to this inquiry is delivered from the viewpoint of Mr. James Cridland: "
"Ben Hammersley was the first to use the term in print, in a widely-read publication.
Dannie J Gregoire was the person to make the term popular in the community: and it's very possible that without Gregoire's use of the term in Sep 2004 – and its enthusiastic use by Adam Curry and Dave Winer – we'd be calling audio referenced by an enclosure tag in an RSS feed something quite different."
---
In my own viewpoint, the term podcasting has meaning for us early podcasters as requiring an RSS feed and adhering to certain criteria — which, today, is being "bastardized" by the younger set that want to define it in their own way, just because they wish to do so.
But for myself, the older meaning and etymology will stand as the true types for the terms. Why? Well, for me, you can pry the term "podcast" from my cold, dead fingers (reciting a pun from an old saying by Charlton Heston of the NRA).
Thank you for your attention.
Copyright (c) 2021, Matrix Solutions Corporation and michaelandmike.com and James Cridland of podnews.net. All rights reserved.