Podcast: Play in new window | Download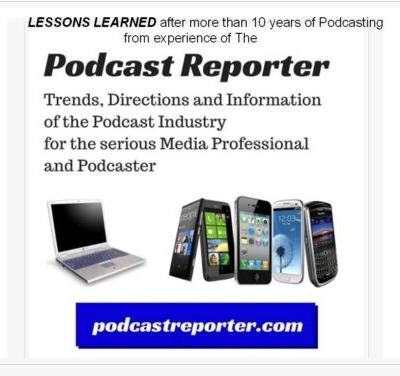 In this episode of The Podcast Reporter, we discuss the theme of a Podcaster's dealing with aimlessness, in spite of what could be viewed as a successful podcasting business at the time of evaluation.
In order to do this, we refer to a podcast episode from Todd Henry's show called The Accidental Creative.
Now, for a small business owner or entrepreneur or professional podcaster that has an outward appearance of having success at the moment, the feeling of "aimlessness" can begin to erode the confidence of your work and your duties, and it can start to allow the feelings of stagnation, fear of failure, a loss of purpose, and others.
What is aimlessness for the entrepreneur?
As Todd explains: "A lack of a clear through-line in your work — a lack of the overreaching "WHY" within your work or your commitment to your tasks for reaching success. When there is little connection between the core why of your work, it is difficult for you to do your best work " and reach a satisfaction result from your work and results.
And this is true, even difficult, when you are doing the work that you may really love — Todd explains this, and I must say that this also applies to professional podcasters who are totally committed to their work and love what they do. The aimlessness is like an asymptomatic virus that attacks our soul and our spirit to prevent you from reaching your goals for your business and doing your best work. Sometimes, it can even lead to have little or no hope in deadlines and lack of appreciation for your tasks and results of your accomplishments (and even delay them).
Todd continues: "When you succeed, you can still feel hollow when you have accidental success, if there is not any intended purpose behind it."
To overcome this, you still need good strategies in order to get to the final result of "victory" for your work, instead of futility. "Aimlessness can be destructive, removing the joy of success and the gratification resulting from your hard work."
Aimlessness does not have cohesion between yourself and your work. You can start to feel this way when you recognize the early symptoms of certain states — like burnout, for instance.
---
Now, Todd addresses this issue with some strategies in defining your battles and aligning yourself to fight your opposing forces to make progress. And he sets these strategies within the framework of "passion"  (and he correctly defines what real passion within your work is about). And more importantly, he explains about "productive passion."
---
We recommend that you consume this episode to see if the strategies explained can be meaningful to you, your work and your business. He explains how you can discover this "productive passion" — especially if you want a small workbook which he offers from his web site to walk yourself through his strategies — with the following ideas:
understand the theory of "compassionate anger";
what moves you emotionally?
what obsesses you (i.e., "the splinter in your mind")?
So, we hope that you can identify your current productive passion and find value from Todd's episode as described here. In this way, you can see if there is a possible road to aimlessness in your current situation and work, especially if you realize that you have not been spending your hours in good time/energy focus. We sincerely wish for you the best in getting your business on the road to success, especially when discovering and overcoming aimlessness.
Thank you for your attention.
Copyright (c) 2021, Matrix Solutions Corporation and michaelandmike.com and Todd Henry from theaccidentalcreative.com. All rights reserved.
Copyright (c) 2021, Matrix Solutions Corporation and michaelandmike.com and Todd Henry. All rights reserved.