Podcast: Play in new window | Download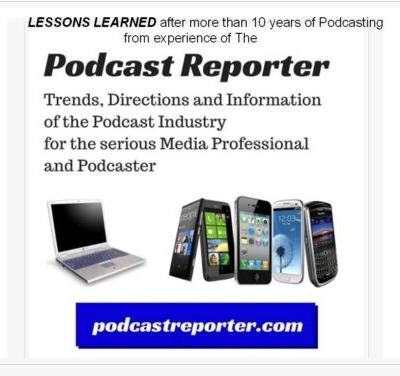 In this episode of The Podcast Reporter, we discuss some experiences that I have had when trying to sell my own products from my podcast shows — and the good, bad and the ugly about their results.
The inspiration for this show came from a podcast show of various episodes from Dave Jackson, podcaster and author of the book, Profit from Your Podcast. Yes, I had ordered the book and have read it — in fact, Dave will even send you a personally autographed copy if you order it from him.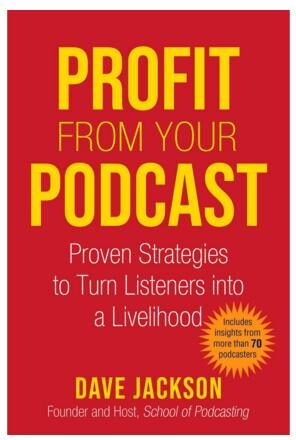 In addition, Dave has also produced a podcast show called Profit from Your Podcast, with the same content.
---
In these episodes of this podcast show, Dave talks about how both feedback in the form of survey results — as well as perhaps focus groups — can be critical for getting audience buy-in for your own products that you may want to sell to monetize your show. And, yes, there are many other strategies in which he goes into within his book, but these are the 2 in which I personally can deliver some experiences when I started off in podcasting and had courses to sell about my podcasts since 2006 (which, in those days, was the very beginning of the podosphere with very few rules — in fact, they called it the "wild, wild west" of New Media).
ABOUT FOCUS GROUPS
Focus groups can give you immediate reaction of your audience from selected members (besides your family and friends) who may be part of your intended and targeted audience. They can help you see if you do, indeed, have a solution or product which they not only want, but also need — and if they would be willing to spend money for it. And in the book and podcast from Dave, he spends time talking about what a focus group is, how to conduct one and what to do with the results for you to analyze the landscape into making a decision to proceed with the strategy and solution you wish to sell.
For this podcaster, I did NOT perform any focus groups. I had only brainstormed this idea with a current podcaster in 2006 when I had the podcast premium course that I had been creating almost done. And it seemed like a good idea at the time, for there were hardly any solutions like mine. And I had been teaching this course in a stand-up inbound class in person for many years — and so the content was second nature to me, and I saw the reviews of my classes and felt very confident that this would sell in the market of that day.
So I went on to finish the course using some technology that came about to make distribution, security and monetization easier for this podcast premium product that I wanted to market. However, I did NOT consider the market landscape of ALL of New Media. And this is the snake that bit me in the back.
Why?
Because Apple had announced, launched and marketed their iPhone product to the world — and that included the majority of my target market. And so the Apple announcement and the audience's desire for "apps" destroyed my marketing efforts and killed off 99 per cent of my sales, regardless of my strategies and investment in my solution.
And because I had not done any focus groups to wet the appetite of my audience and get good feedback and positive reinforcement that I was on the right track, I was faced with an albatross for several years until I had written off my project and finally withdrew it.
SURVEY RESULTS
I had also committed another grievous sin — I did not have solid pre-launch survey results from my target audience about the utility of my product and their desire to obtain it to solve their problems. The desire for "apps" overcame their senses, and they dropped my product and podcast like a hot potato, as they circled around a solution in an app for their problem.
And, truthfully, up to this day, there has NOT been a solution in app format on the smartphone that has delivered the same solutions as my premium podcast course. But the lure for an all-encompassing app led my target market astray, and I suffered the results.
Why did I not have pre-launch surveys?
At the time, I, as a podcaster and trainer of a successful in-person course, felt overconfident that my solution was the best and that it would sell to my audience.
How wrong I was. In fact, the only surveys came AFTER the product was launched and after seeing the results that lacked success.
For if I had done surveys, I know that the responses would show that the only format that would have been suitable to my target audience would have been an iPhone app — and, again, that day not only did NOT arrive then in 2010, but it has still not arrived even today. And, yes, one or two scattered customers recently saw the value of my course and have purchased it now — but the marketing and sales plans that I had so carefully prepared did not show up, because I was flattened by the competition in the marketplace by mere illusory dreams of a solution that has never been delivered.
---
Now, the lessons I have learned have been to create a marketing plan for any monetization that I wish to follow with pre-launch activities that include:
surveys; and
focus groups
and to rely on their feedback to create milestones in which to make a hard decision that is fact-based on whether to continue or change course — or even to scrap the project solution due to audience feedback.
And since that time, I did create another podcast course with another podcaster — and we achieved more of a success, but it was still not enough to get us over the hurdle into great profitability.
Thus, my lessons learned included the inclusion of feedback from many sources (here we only touch upon 2) in pre-launch activities that can provide great information before sinking any more time and money into continuing on something that may not provide a good ROI as we desired.
These are lessons that I could have used if Dave's book had been available to me at that time. For in his book, Dave speaks about both, but he also gives some scenarios and recommendations on how to conduct both surveys and focus groups — and these may be well worth consuming if you are a newer or aspiring podcaster that wants to monetize your show with online courses you wish to sell or with other products of your own
So, I hope that you can get more information from Dave's book and free podcast, as mentioned. And I wish that you can avoid the mistakes that I had made and then get your show to have successful launches of your products that will make your podcasts more successful and profitable.
Thank you for your attention.
Copyright (c) 2022, Matrix Solutions Corporation and michaelandmike.com and Dave Jackson and profitfromyourpodcast.com. All rights reserved.