Podcast: Play in new window | Download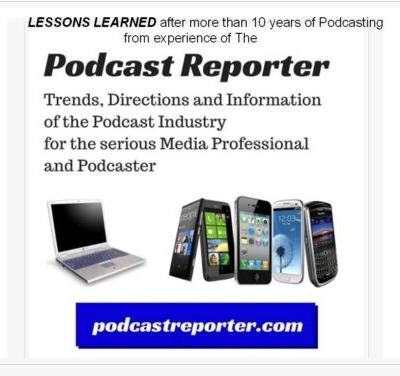 In this episode of The Podcast Reporter, we consider an article by Ben Krueger (podcaster and creator of cashflowpodcasting.com) in which he ponders the reasons why potential podcasters delay in getting started — in fact, he titles it "The One thing stopping you from starting your podcast."
Now, you could consider this a type of procrastination from getting your feet wet in the podosphere as an aspiring podcaster.
And as we delve more deeply into this article, there is food for thought that someone who would like to podcast should really know what he may be missing out on by not starting. And we would ask ourselves the same question — what is the one big reason why anyone who wants to podcast would hesitate?
In the article, Ben describes the dilemma and the lost potential of communicating with a good audience and telling your own story and delivering your own message:
"The biggest thing that gets in the way of podcasting dreams is the desire to do it right. And it's not surprising if you think about it. Industry advocates and leaders have become successful because when they decide to do something, they make sure they do it well.
They make the effort to create high-quality work, use a strategy that gets results, and make the most of their time so they can focus on what they're best at. This drive to do it right is key to their success in other things, and podcasting is no different.
The problem is that because they are so focused on this, their podcast becomes the project they think about for months—if not years—before they're ready to commit. In my experience, this is usually due to three main issues that must be addressed before these would-be podcasters feel ready."
And so Ben describes these main issues for aspiring podcasters and their procrastination:
Issue number 1:  the excuse or reason is "I don't have the time."
Issue number 2:  Being intimidated by the tech in podcasting;
Issue number 3:  The desire for success (and the resulting fear of failure to meet expectations).
Now, in my past, I have taught Personal Productivity (aka "time management") courses to professionals. There is always some proven method to be able to be more productive (about 25 per cent for many people) with their time. In fact, when I taught the course, the objective was "to accomplish more in less time with better quality and to reduce stress."
As Ben addresses in the article, getting help with software, or with virtual assistants, can free up time for you to be able to engage in the podosphere and get some good results. Obviously, his call to action is to hire a professional who can assist in helping you get started (like himself). And I have no problem with this, as I myself did hire Dave Jackson of The School of Podcasting to help me get my podcasts launched (even after I had taken self-study courses in starting a podcast show and creating and publishing an episode).
And, of course, if you have the money and want to get a pro to do it all for you, the hiring of help is the ideal way — even though most of the aspiring podcasters cannot afford it:  "The third and best option is to hire a full-service podcast production agency that takes care of the strategy, as well as all the time-consuming and technical stuff so that all you have to do is show up and hit record."
I highly recommend that you, as an aspiring podcaster, should review the contents of this article so that you can really get past the excuses of "no time" or "no tech savvy" to get yourself into the podosphere — especially since most of us cannot go with the third alternative, which is to hire a full-blown studio to do it all for you. And although this is one alternative that can be provided by Ben Krueger, your budgets may have a warning for you from proceeding down the full-blown studio setup.
Yes, it may take some time and some self education, as well as a minor investment in training materials, as well as the tech devices and software. But once you get past the learning curve, you will find out how satisfying it can be to prepare, produce, publish and promote your own show and episodes.
As Ben summarizes, the HELP you need is something which you must explore, investigate, analyze and plan for stepping into the podosphere: "The moral of the story? Get help at whatever level is appropriate so that your time and effort are maximized for success…Instead of trying to figure out all the tech on your own, there's a much simpler and more effective way: Ask for recommendations, and keep it simple…Starting a podcast can be time-efficient, simple and rewarding — if you let it."
In fact, Ben recommends one of his resources to start with, as it is a free key piece of advice:  "(A great place to start is to download our free book, which breaks down our proven 5-step process for starting and managing a podcast…)"
In his book, Die Empty, Todd Henry (a podcaster and author) also mentions that a graveyard is the biggest container of lost ideas and valuable projects that never got started. Thus, Ben, in a similar manner, suggests that you NOT let procrastination of getting into the podosphere be one of your tragedies that were never realized in life.
Thus, we hope that you will find the time and get the training and education and put together a realistic plan to engage in the podosphere and have a successful podcast.
Thank you for your attention.
Copyright (c) 2021, Matrix Solutions Corporation and michaelandmike.com and Ben Kreuger and Todd Henry. All rights reserved.