Podcast: Play in new window | Download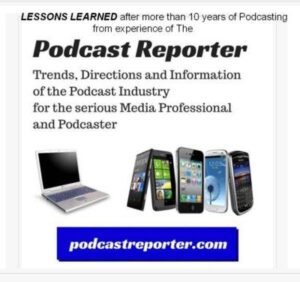 In this episode of The Podcast Reporter, we dive into the ways that you can get your podcast discovered — especially from the words of wisdom delivered by Dave Jackson of The School of Podcasting.
These ways were published and described with a link in a post on The Podcast Business Journal recently. Dave is the author of the recently published book called Profit from Your Podcast.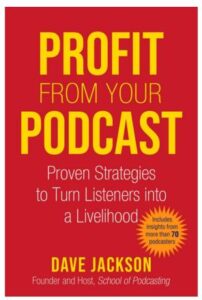 ---
Now, I have personally known Dave, and I have interviewed him in the past since 2007, and I have even hired him as a podcast consultant since then. His skill and acumen are well noted, as he is a member of the Podcasting Hall of Fame and has an award-winning podcast show of The School of Podcasting.com.
What Dave discusses for us in this post is the age-old problem of DISCOVERY. Since 2005, he has been giving hints, tips, tools and other recommendations for having your own podcast show do well in the area of discovery. This also relates to Dave's internal mission in life today, which is to help you avoid making your podcast BORING.
So Dave gives some simple suggestions to help your podcast in the area of DISCOVERY in the podosphere:
Tell people to share the show — especially since word-of-mouth is one of the strongest means of promoting your podcast and letting others "discover" that your podcast has valuable content for them — and have a great call-to-action;
Be Down with other people's podcast — "Do your homework and find other podcasts where you can deliver value to the audience."
Apply to speak at all events — your presence in front of live audiences (and even virtual or online events) will help to grow your audience and introduce you to those who don't know about you or your podcast;
Always be promoting — you should be a 24-hour marketing and promotion system for your own podcast show and emphasize the VALUE that you bring to your listeners;
Paid advertising where podcast listeners reside — a strong method, if you can afford it in your budget and target the right audience with the right ROI (i.e., return on investment) that gets you results.
Now, Dave gives examples and sample situations for each of his five suggestions. I strongly recommend that you run this checklist mentally and compare to see how it relates to your show, and whether or not you can get good results from this. For a few minutes of examining this checklist, a gem of good opportunity may come your way.
We hope that you will be better at DISCOVERY in the area of podcasting, and that your show's audience can grow so that you can have a successful podcast.
Thank you for your attention.
Copyright (c) 2021, Matrix Solutions Corporation and michaelandmike.com and Dave Jackson of schoolofpodcasting.com.