Podcast: Play in new window | Download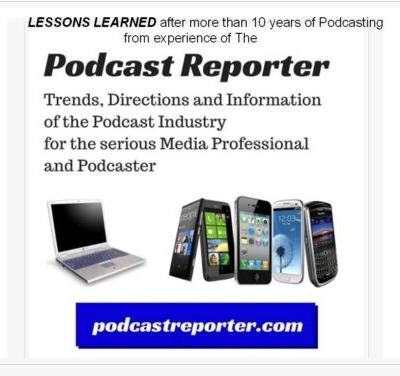 In this episode of The Podcast Reporter, we discuss a recent post in the podcastbusinessjournal.com from Dave Jackson, podcaster of the School of Podcasting, where the topic centered on the audio quality from your interviewee and to whom the blame should be leveled. The title of this post was also mentioned in the podnews.net newsletter, and it was: "Stop blaming your guest for bad audio."
In this post, Dave mentions that you, the interviewer, is really to be held responsible for any episode interview where your guest has bad audio. Dave says that you are to blame for letting bad audio be recorded and published in your podcast show interviews.
And Dave delivers to us several options so that you would not have to deal with sloppy or bad audio in your published interview — for example:
 Dave says: "You control what guests make it to your listener's ears."
Just as a potential prospect may ask you for examples from your portfolio of either art, podcasts, videos, etc., so, too, you can do the same to qualify (and later vet) a potential interviewee:  "When I have people pitch me to be on my show, if they've done their homework and connected their expertise to my audience (which 98% of them don't) one of the first things I'm going to ask is, "Do you have a link to a previous interview so I can hear your audience quality?"
As far as equipment goes, Dave suggests several low-cost options for interviewees to deliver quality audio when they record (especially if you are doing a double-ender) — e.g., the Samson Q2U is an ideal mic (which used to be the AT202x series of mics), as well as the Blue Yeti (as long as it is configured properly and placed in the correct positions for quality audio capture). Now, for myself, there is no mention of the Samson go-mic (which is what I recommended for my co-host to use, and which he has used for 50 podcast episodes as an interviewee or co-host) or other quality mics that are affordable;
And finally, Dave suggests what to do for a proper job of planning for audio quality for interviews (and this is merely a way to get the interviewee to obtain the proper equipment for quality, and not a total rejection): "When you say to them, "I'd love to have you on my show, but your audio isn't currently cutting it. If you want you can order a cheap headset or some earbuds, and we can try again later." You're not saying "No." You're saying "Not now." 
And then you have the proof of the pudding when you find out why your podcast show may be suffering:  "The bottom line is if you're wondering why your podcast isn't growing, it may be that it's leaving a bad taste in people's mouth…"
---
Now, for this podcaster, I have had multiple interviews with many podcasters, celebrities, professionals, etc., during the past 15 years of podcasting. And the worst audio occurred when a guest refused to use a quality mic and agreed to the interview when I had to call him on Skype (remember that old application) and he did the interview from the mic on his smart phone while he was outside. Needless to say, the quality was not good and it would not stand in today's circles of acceptability. This was an exception, for his partner (also a podcaster and a tech-guy, had wonderful audio when I had interviewed him the year before).
So, unless I know what type of equipment is being used, I would now prefer NOT to conduct an interview over the telephone. I have always preferred to do interviews in person (if possible) with my handy Zoom H2 or H4n or Q3 or even my Zoom H1 that I would hold in my hand, because I could then control the quality of the audio — and I could clean up any wrinkes in post.
But for the newer podcasters or the aspiring interviewers, I would suggest that they should take Dave's post to heart. Some podcasters have even got to the point of having an extra quality microphone and recorder — and then sending it to the guest, so that quality would not be impaired and all glitches could be corrected in post.
So, we hope that you, as a podcaster, would be very conscientious about the required audio quality in today's environment and insist that the right mic and the right positions of equipment and settings would be the environment for any future podcast interview recordings with your guests.
Thank you for your attention.
Copyright (c) 2021, Matrix Solutions Corporation and Dave Jackson and podcastbusinessjournal.com and michaelandmike.com. All rights reserved.