Podcast: Play in new window | Download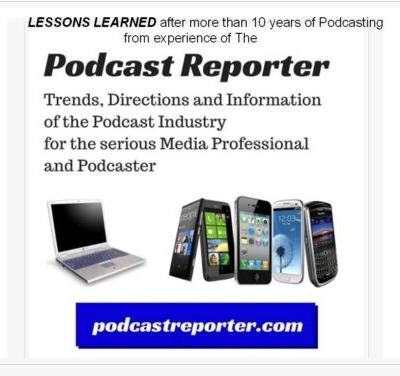 In this episode, we hail and celebrate our 400th episode of this Podcast series by discussing the value of a good intro for your podcast episode and some suggestions by Matty Staudt on how to grab your audience with the art of the "tease.".
---
First, however, we shall share with you a milestone that we have reached — 400 episodes. Now, this was not the first time that we have had 400 episodes in one of our shows (we did that before years ago in an earlier podcast show before we had to podfade it). And having been a podcaster for the past 15 years, longevity is one fine trait with experience in the podosphere.
Since October 15th of 2019, we have published an episode every day. And although it was never planned as a publishing marathon, it ended up being one because of the content ideas and the podosphere news that have created information for us to share with you.
However, we have used the format of the short-form podcast (i.e., less than 10 minutes in length) for much of the last 200 episodes, and for most of the publishing marathon since October of 2019.
And we intend to provide more value to our listeners with the information about the podosphere and other new media topics.
So, now, on our 400th episode of this podcast show, we can look back to our roots of 2014, to the first episode and see that we have delivered value to our listeners and loyal fans, and that we intend to keep delivering such value as we possibly can. In the beginning of our podcast show, we focused on bringing you interviews with the legends of the podcasters who were the giants of the podosphere from the beginning and who helped us to form the podcast as a medium and several genres. We interviewed those who had been podcasting since 2004. And then we opened up our attention to other topics related to the podosphere which we felt were of significance to the aspiring podcaster, the hobbyist podcaster and even the professional podcaster or serious new media professionals.
Hook your audience with a good INTRO
In the recent post in the Podcast Business Journal, Matty Staudt emphasizes with an example of a boring introduction what it means to be exciting, relevant and catching, so that you can "hook" your listener in the first few minutes of your episode. The name of the article is called "Your Intro Matters."
The importance of creating a meaningful and attractive intro is given the importance by Staudt: "People decide if they are going to listen to a podcast in the first minute. If you don't give them the full picture in that time or hook them with interesting audio they will most likely move on to one of the other million podcasts out there."
Now, although we have discussed good introls and outros before in this podcast show — especially with the reference of an earlier podcast episode in The Audacity to Podcast show by Daniel J Lewis — Staudt relies on a very simple and quick list of suggestions that he has seen work best for him when he produced his shows:
Voice first — as this needs to be warm and friendly to invite the listener to stick around and consume some audio that will contain the value that he seeks;
Set up the show — Deliver a "tease" with brief and relevant info: "I usually suggest a quick tease of content followed by these three important elements. Name of the show, who you are, and the show's tagline/mission statement."
What's on today — The brief tease that describes the content to be delivered and the value that will be given to the listener.
Create your intro as the LAST task for your content — As Matty states, "One last thing. Do your intros after you have produced the rest of the show. It should be the last thing you do so that you know exactly what you are going to tease. A good intro takes thought, good writing, and the remembrance that each show is a new show for someone."
Now, for this podcast, we have had a standard format for intros. This would include the episode number, then the key theme or the question that will be answered in the content (this is the "tease"). And then we will go straight into the meat of the content and provide the VALUE to our listeners so that they will not get bored. And instead of including many segments in the episode, we focus only on one theme in a short form episode. And many of our listeners have commented that they enjoy this format — especially now that many of our audience has to stay isolated during the virus crisis.
And the tease or tag line and intro are usually all created at the end, or they are set out at the start of production, but reviewed and mainly improved and modified after the episode has been produced (just as Matty states). It seems to be a good formula for us to use, and we strongly suggest that perhaps you can try this out for your podcast episodes and see how well it can work for you.
So we wish you the best in creating your exciting intros for your podcast episodes to hook your audience and keep them as loyal fans of your show.
Thank you for your attention.
Copyright (c) 2020, Matrix Solutions Corporation and Matty Staudt and PodcastBusinessJournal.com. All rights reserved.