Podcast: Play in new window | Download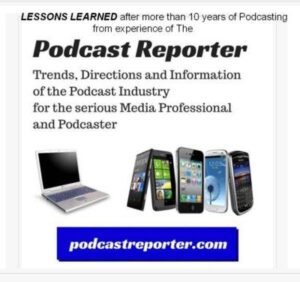 In this episode of the Podcast Reporter, we discuss some "After-Action-Reports" (as they were called if you were in the military) and a promotion to describe benefits of the conference from some podcasters who did attend in person the Podcast Movement conference — in particular, the latest conference in 2021 and the very first initial conference in 2014.
---
The first Podcast Movement conference in 2014:
In this same podcast show, we presented an older episode of this podcast show that stated the benefits that you would miss if you would not attend Podcast Movement (initial conference in 2014):
And the slides that promoted this theme are in this PowerPoint slide presentation:
https://traffic.libsyn.com/secure/fgcastgain/PDF_of_NineThings-PodcastMovement-presentation-slides_1.pdf
---
The recent Podcast Movement conference after-action report:
In a recent edition of the Podcast Business Journal, Matty Staudt delivered his perspectives by publishing his "Five Things I Learned at Podcast Movement."
The summary of these benefits received by Matty are stated in the following, as Matt states: "…it was still a an amazing time with some excellent speakers. Here are my top five takeaways."
Our industry continues to be one where everyone supports each other.
Podcasting for brands is becoming big business.
Monetization is all the talk…. We are still a young industry and a lot needs to shake out, but I've never seen so many tools available to monetize shows without relying on CPM. It's still a tough road to hoe for most, but it's getting better.
Everyone wants to be Clubhouse.
Radio is getting serious and being taken more seriously.
And you may ask "who is Matty Staudt?" For your benefit, we answer that question with the information in this article:
Matty Staudt is the EVP of Podcasting for Amaze Media Labs producers of podcasts for brands and events, Founder of Jam Street Media, and former VP of Podcast Programming at iHeart. You can find him on all socials @mattystaudt or email at matty@amazemedialabs.com 
---
It was interesting to compare the notable benefits of attending this same conference as it has morphed into an inbound event within the podosphere. We hope that you, too, can find benefits in attending.
For this podcaster, I did attend the initial Podcast Movement conference in 2014 (in which I did share a booth and meet another podcaster, Mr. Ben Krueger of cashflowpodcasting.com); I also did attend the Podcast Movement 2020-Evolutions in February —  but I did not attend the most recent conference in Nashville in 2021.
However, I do plan to attend the 2022 Podcast Movement conference in the first quarter of the year. I have received benefits both in education and training and knowledge and in-person connections and improvement of relationships with other podcasters — as well as getting interviews from the attendees and the exhibitors at the conference.
Thus, we shall see how the situation for attending live events will evolve and what the nature of the podosphere will be at that time.
We hope that you, too, can attend a conference in person (or online in the virtual conference) and get the benefits to help your podcast show for your podcasts to grow and be successful. For this, we recommend that you do create a cost-benefit analysis to justify participating in an upcoming conference.
Thank you for your attention.
Copyright (c) 2021, Matrix Solutions Corporation and Podcast Business Journal and Paul Colligan and Matty Staudt and michaelandmike.com. All rights reserved.