Podcast: Play in new window | Download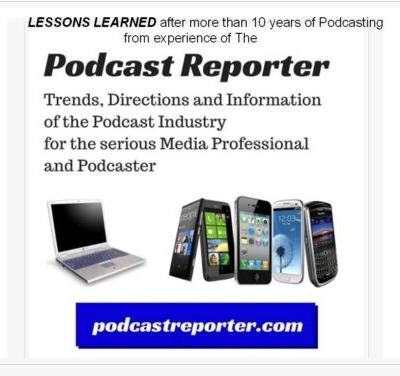 In this episode of The Podcast Reporter, we discuss the recent article in the podnews.net newsletter that reviews how Evo Terra creates and produces his podcast show of PodcastPontifications.com.
For any podcaster that has known Evo, this would seem like a very interesting story. As I have known Evo since 2007 when I met him in person at a Podcamp conference in Arizona, I considered this of great value. For he has been a master podcaster, as well as an author who wrote several of the first books on podcasting in 2005 and 2007 (i.e., Podcasting for Dummies and Expert podcasting practices for Dummies).
---
Why this article in the podnews.net newsletter? Well, I guess that Evo got tired of people asking him why he spends 3.5 hours per episode and 4 episodes per week for almost 350 episodes to do his show — and that begs the question of the description of his workflow. So I guess he decided to publish the answer and point people to the article as a reply.
Very much like the situation with Dave Jackson of the School of Podcasting show, Dave constantly had to explain and answer the question of how someone can make money from podcasting. And so what did Dave do? He wrote a book, More Podcast Money (which is being updated with a new book, Profit from Your Podcast). And now, Dave can point to the book as a detailed reply once and for all.
---
Now, for aspiring or new podcasters who may ask Evo the same question (possibly in a webinar or a conference or a presentation), this article from Evo presents itself as a CASE STUDY.
In it, Evo describes the following details of his planning, his equipment, his recording, his production, his publishing — and then he goes into the details of WHY he takes so long (21 times the length of each episode) for final production:
Sound Conditioning:  these details describe how his environment for recording is prepared for recording;
Microphone: Shure SM7B

mounted on a

VIVO swingarm-mount

. 

Audio Interface: Zoom H6

, a portable recorder that has a lot of features and functions for recording either in a studio setting or the outdoors;

Computer: Mac Mini

, which is my dedicated studio computer. 

Digital Audio Workstation or DAW:
Camera:  None, as his show of Podcast Pontifications is not a video podcast. But yes, there is a video version. 
Media Hosting Company: Captivate.fm

, of which I sit on the Advisory Board.

(Disclosure – so does Podnews's Editor)

.

Website: PodcastPontifications.com is managed via and hosted by Webfow

, 

Other Software:

 as described.

Pre-production:

  And he delivers a bulleted list in this case study of what a typical schedule is like for him in the preparation and production tasks.

Creating a title and finalizing imagery;
Creating the "script" for the show
Production and live streaming: recording and creating the mp3 file;
Exporting the mp3 file to Descript for a full transcription.
The Writing and written editing: post-production
Publishing & Distribution: this can include scheduling and publishing the video and posting it to appropriate sites and web pages, as well as finalizing the ID3 tags.
Final syndication.
---
Now, all the details are not given here in the show notes or podcast episode — they are in the podnews.net article. I strongly recommend that ALL podcasters consume this article, so that they can see how a real  pro podcaster (i.e., one who wrote the book on podcasting) actually describes his workflow and tasks in the planning, production and publishing of his episodes.
I feel that we can ALL learn something from the old masters (of which I consider Evo one). And some of us may want to compare our own workflow and tasks to see if we need to improve our show with either additional plug-ins, software, or other tasks.
In any case, I feel that any podcaster worth his salt will get enjoyment out of Evo's article — especially since his sense of humor and his element of "disruption" come out loud and clear in his writing. Please enjoy.
Thank you for your attention.
Copyright (c) 2020, Matrix Solutions Corporation and Evo Terra of PodcastPontifications.com and podnews.com. All rights reserved.