Podcast: Play in new window | Download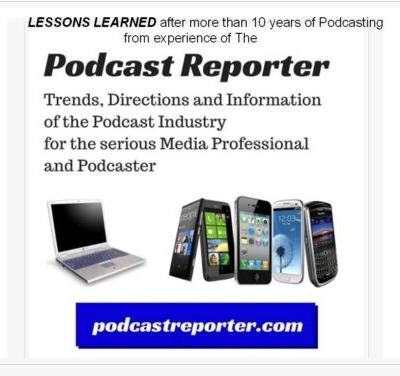 In this episode of The Podcast Reporter, we revisit the topic of helping the podcaster get over any negative feelings that may creep up for podcasting when the passion and thrill is gone for you.
In this repurposed episode, we hope to give you tips and ideas to create strategies and help you to avoid the negative feelings that can result from the following:
Boredom,
burnout,
overwork,
lack of socialization with other podcasters,
lack of content (because you may have exhausted your content and cannot spawn new episodes from newer ideas), etc.
competition that has overtaken your show;
too much repetition in your workflow;
inability to participate in podcast meetups or podcamps or podcast conferences;
you feel attracted more to social media instead of podcasting;
you may feel that you have "grown out" of podcasting;
health problems that make you lose energy or ability to engage in podcasting in the way you did when you first started;
and other reasons that are mentioned in this episode.
I, myself, have felt down in certain times. And I give you a number of strategies that can help you get out of your slump of negativity. These did work for me.
In fact, there are GROWTH strategies that may work for you — for example, starting a podcast membership site (such as the one Daniel J Lewis of The Audacity to Podcast show created called Podcasters Society), or even starting or participating in a podcast network.
And, of course, there is always the direction of monetizing your podcast. You can refer to Dave Jackson of the School of Podcasting show in his free and earlier book, More Podcast Money (or the updated book called Profit from your Podcast).
I hope that some of these strategies that have worked for me as a podcaster can also help you during the times when you may begin to feel that "the thrill is gone" from podcasting.
Thank you for your attention.
Copyright (c) 2020, Matrix Solutions Corporation. All rights reserved.