Podcast: Play in new window | Download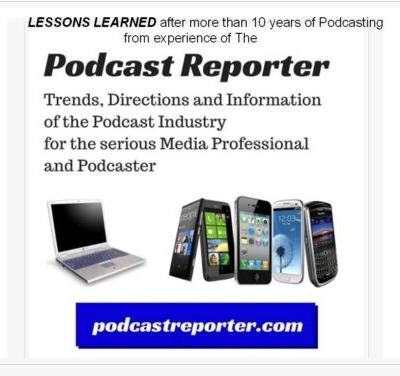 In this episode of The Podcast Reporter, we discuss an earlier post in medium.com (to which I was alerted in podnews.net) where the topic is: "Scheduling podcasts Helps you level-up without burning out."
In this article, the topic of scheduling the date when your podcast episode will go live to your listeners and audience is addressed with the tools in RSS. In another tool, WordPress, I have used the time stamp and date feature to do my scheduling for my episodes — all of them for three podcast shows. I have done this for 15 years, and the workflow and operation that I have from editing the episode to publishing and posting and making it live all seem to flow smoothly.
But in this article that originally appeared in RSS.com podcasting, the author goes into a bit of detail (along with screen shots taken when scheduling and using RSS.com podcasting) for each topic:
Schedule everything to maximize efficiency;
Schedule when your podcast will go live;
Scheduling your podcast will make promotions more manageable;
When is the best time to schedule an episode to be released?
How to schedule your podcast episode (with screen shots and flow)
---
Now, for this podcaster, I have always used WordPress, and I have found it to be sufficiently adequate. Yes, there are a few flaws, as well as features that I wish that it had. But especially for the new and aspiring podcaster, this may be the proper tool at the right time. In fact, there was a tutorial on WordPress located in Udemy, the electronic catalog and learning site, which taught WordPress.
In fact, I am planning, writing the show notes and script, as well as doing the recording, editing and scheduling of this podcast episode in late February of 2021 — which is six months before this episode is scheduled to go live. How is that for scheduling an episode with some evergreen topics?
We hope that you can either learn from this episode and use the tools that are suggested, or that you can adapt WordPress to your own workflow and become a successful podcaster — and that scheduling your episodes will be something that will help you to become a better podcaster.
Thank you for your attention.
Copyright (c) 2021, Matrix Solutions Corporation and medium.com and michaelandmike.com . All rights reserved.