Podcast: Play in new window | Download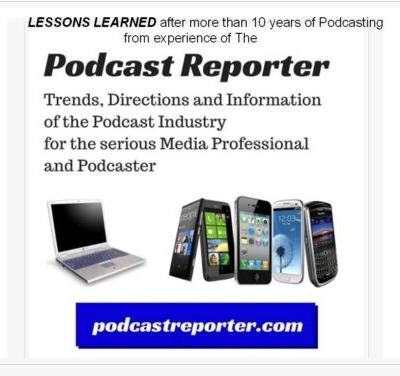 In this episode of The Podcast Reporter, we focus on an article found in the July issue of medium.com that dealt with scripts in podcasting. The title of the article is "Scripting Down Your Podcast : How Important is it?"
In this article, the topic of the importance of podcast scripts is reviewed from the point of view of the value to the podcaster.
In the beginning of the article, the key factor articulated is that "Having a script will help you deliver your message in a more effective manner."
Then the article delivers some tips to frame a great podcast script. In addition to creating a road map of your episode topics, the article also suggests that you maintain a conversational tone (and not an overly technical one), as well as leaving some room (or markers) for impromptu topics that will suggest spontaneity in your content. And although I, myself, do not recommend the following tip, the article suggests that you even indicate certain patterns of speech: "mark out the specific lines for pauses, laughs, emphasis, and sighs."  (You see, for myself, these audio noises should be natural and sometimes spontaneous)
And finally, the article even includes some tips for quality scripting with a suggested podcast script template. This framework would give you the following areas of content for a "quality script":
1. Sponsor message
2. Introduction
3. Musical jingle/sound effects
4. A longer explanation of what's in store
5. Topic 1
– Main point
– Supporting point
– Supporting data
– Supporting quote
6. Segue
7. Topic 2
– Main point- Supporting point
– Supporting data
– Supporting quote
8. Sponsor message
9. Topic 3
– Main point
– Supporting point
– Supporting data
– Supporting quote
10. Segue
11. Outro
12. Call to action
13. Sponsor message
14. Musical jingle/sound effect
And, as you can see, the detailed script becomes quite a template for production of a full episode.
Now, for this podcast reporter, I have done scripting like the above in the early days of my podcasting experience — back from 2006. However, with practice and experience, I have been able to break away from the chains of such a strict template to a brief outline or a detailed outline (depending upon the nature of the topic, the interviewee involved, and the amount of minutia or details concerned).
For the novice or new podcaster, or for the aspiring podcaster, the above template can give an idea to the podcaster of how much detailed work there is to plan for a quality podcast episode instead of just "winging it" or doing a "roll your own on the fly" episode.
However, perhaps your episode need not be so rigorous or strict or detailed. A good, solid outline can be a perfect substitute once your audio conversational skills are perfected, and when you can learn to be spontaneous with a guest, or when you can have enough background in your topic to go "off script" (as they say in the media).
Whichever method you choose, a script can be a good training tool. It can also be the foundation for creating good show notes and ensure that you have good skills in planning your podcast episodes. And perhaps you may want to create your own template — suited to your skills, your personality, your podcast show and your topics.
So we hope that your scripting skills can be improved and that your planning for your episodes will help make your podcast show successful in growing your audience and making loyal fans of your listeners.
Thank you for your attention.
Copyright (c) 2020, Matrix Solutions Corporation and mediu.com. All rights reserved.