Podcast: Play in new window | Download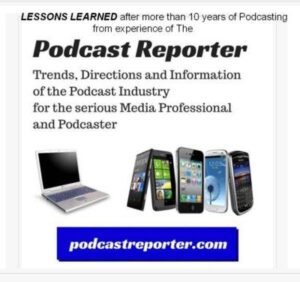 In this episode of The Podcast Reporter, we discuss and give a very high-level overview and review of two programs from our podcasters recently.
One was from Dave Jackson's Ask the Podcast Coach show (co-hosted with Jim Collison of TheAverageGuy.tv); and the other was an educational webinar called The Show Notes Summit.
First, we review some comments (that some of the purist grumps will enjoy criticizing) in the live streaming and tech environments of podcasting. In the tech area, we experienced the pros and cons of the live streaming tool called riverside, which was used in a recent live podcast episode of Ask the Podcast Coach from Dave Jackson and Jim Collison. The poor video and audio quality was only surpassed when the system knocked you off and had to re-initialized.
This comment was echoed over and over again in the chat room (or "troll room," if you will). It was even echoed in the discussion by myself and co-host Matt Cox (who is a co-host for 2030podcast.com and grumpyoldbears.com).
Comment is: bring back the quality live streaming with YouTube, as they had before.
My opinion was that the sad part about this "experiment" was that the co-hosts for Askthepodcastcoach.com did NOT warn the listeners ahead of time that there was an experimental session that would use a new tool for the session. And, yes, some listeners and viewers were left out, due to technical and other problems. So several listeners were left out — and there was, in my view, no reason why this had to happen without warning.
Now, would I, as a podcaster, use this for live streaming?
No, never — not on your life, as I had to painfully experience the poor audio and video on this stream. Enough said.
---
Another theme was the live webinar with Daniel J Lewis and Steve Stewart that dealt with show notes for episodes (yes, the Grumps probably did not enjoy paying the $9 USD fee for live attendance, mainly because grumps like only FREE webinars with no charge).
It was called the Show Notes Summit.
But, in my opinion, it was worth it.
Our view is that webinars like this are ideal for learning and communicating with the ideal group of like-minded individuals.
Why?
it goes no longer than 4 hours and many speakers that deliver value;
there is a live chat room that becomes very lively and helpful for issues that are brought up during the presentations;
there is a question/answer session at the end of each presentation, and it does not go longer than just a few minutes;
there was a choice that could have been made by a live attendee of the presentations, where for an additional $40 allows the individual to get the replay videos, charts, membership in  a slack group for community sharing and other premium deliverables.
there are great presenters and instructors, such as Daniel J Lewis, who gave a new view and approach in creating better show notes.
This whole webinar was a positive step for education, training and learning about creating and delivering show notes for podcast episodes — mainly due to the leadership of Steve Stewart, a podcaster and master of editing (i.e., he runs the Podcast Editor Academy).
And, in our opinion, the best session was delivered by award-winning podcaster, Daniel J Lewis (who has a show called The Audacity to Podcast, as well as other products for podcasting, which you can see on his site). He described how to use AI in helping you to create show notes for your episodes. In fact, he was demonstrating how AI can help you to get inspired for show notes — but NOT be a crutch to automatically write them for you and whip them out in a couple of seconds. The tool he used was Jarvis, which is promoted as a copywriting assistant.
We are looking forward to other webinars in the same format under the leadership of Steve Stewart and company.
---
One question that I did ask of Daniel J Lewis while I was in the chat room of the Show Notes Summit was for the time frame for an upcoming episode of The Audacity to Podcast. The reply I got from Daniel was that we could see something very soon.
I will be waiting with bated breath for that episode to appear.
Thank you for your attention.
Copyright (c) 2021, Matrix Solutions Corporation and michaelandmike.com and Daniel J Lewis and Steve Stewart and David Jackson and Jim Collison. All rights reserved.