Podcast: Play in new window | Download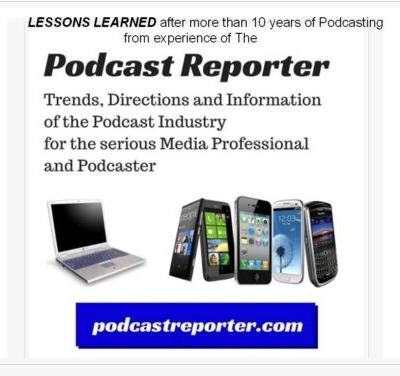 In this episode of The Podcast Reporter, we discuss the situation of retiring from professional podcasting, but yet not leaving the podosphere either as a podcaster that creates and publishes content, and still enjoying the arena of creating and distributing your messages.
I was listening to an earlier podcast from Adam Schaeuble's show called Podcasting Business School, and in one episode, I realized the idea of being a successful podcaster and reaching your objectives both in audience growth and monetization — but now what? How does this fare for me for the future? And what's next for me, both as entrepreneur and podcaster or screencaster?
---
For this podcaster, I had a maximum of 18 podcast shows — and 16 of them at the same time in 2011. However, as the themes and topics for content dwindled because of the nature of the shows, I had to podfade them until I only had one left before I added two more.
Now, did ask myself if I had accomplished what I set out to do. I also noticed that there were more than a million podcast shows published in the podosphere (1.3 million to date, I think). So did I figure that I would continue on the road to audience growth and monetization?
Not really. And why?
Because of my health problems that hit me 3 years ago with a vengeance, and because I no longer wanted to compete with others for monetization, I realized that I had learned a lot with my experience to help others, as well as relax any stress of working harder and podcasting more — but enjoying it less.
So I thought that I could still publish my content and distribute my messages to deliver VALUE to my audience, while really feeling as if I had RETIRED from being a professional podcaster that had to make a certain amount of money from podcasting or generate more listeners. This feeling of being RETIRED came from a presentation in 1978 from Lem Jones, an instructor in the IBM Systems Science Center, in which he stated that "if you enjoy what you are doing, you are basically RETIRED for your own good, or retired from your job which you can define."
---
This feeling of being FREE from the stresses of publishing content to compete with others and to compete with the environment of the podosphere led me to create even two more podcast shows (after podfading 15 of them previously due to my taking care of my own health and that of my poor mother who was suffering from dementia and Alzheimer's). And they are still going strong, without any marketing or advertising on them. In fact, one of the shows was republished on the No Agenda Stream and the speaker referred to this show as a "quality podcast." And I did nothing to promote or market my podcast show.
So, as the very old TV sales commercial in the 1950s and 1960s said in their advertising hook "Are you smoking more but enjoying it less?"  And this tag line struck a chord with me to know that I was competing in podcasting more, but enjoying it less.
Therefore, I retired from the stress and tension of the business of podcasting — but I did not retire from the enjoyment of podcasting.
Even though I am screencasting and creating training videos for other clients, I still keep podcasting almost daily, because for me, "PODCASTING is a labor of love" in which I can get my message into content that will bring value to other podcasters and to my audiences.
So even though I still do research and create and publish content that can be of VALUE to my audience (especially lessons learned from my past and present experiences in business and podcasting), I do so on MY TERMS that result from my passion.
So, I hope that you perhaps will be thinking of your future in podcasting. What is your strategy for "retiring"? And does it contain the ability to retire, yet still continue podcasting because of your Passion for it? Remember — in the beginning of the podosphere, most of the podcasters in 2005 were passionate enough that they wanted to enter this arena and share with others their message only because they enjoyed it and many did not have any desire to monetize it.
So I will keep my passion of podcasting alive and well with this show, as well as my other two shows, even though I am basically "retired" from the podosphere as a professional podcaster.
I hope your future also includes "retiring" from the stress that may be caused by podcasting, yet enjoying the freedom to podcast in your "retirement."
Thank you for your attention.
Copyright (c) 2020, Matrix Solutions Corporation . All rights reserved.