Podcast: Play in new window | Download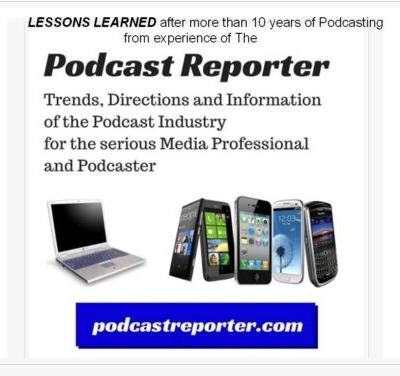 In this episode of The Podcast Reporter, we discuss how your departure from podcasting and downsizing of your shows from several to just one or two may be a bit premature at the time you start to suffer from health complications due to age.
I, myself, a podcaster for the last 15 years, did feel that the world of health complications was crushing in on me and that I would have to exit from the podosphere. And so, in January of 2018, I wanted to give my listeners from the last 3 remaining podcast shows a type of eulogy that will signal my farewell (as at that time, I did feel that I was going downhill and would not recover to my previous level due to my conditions — both mental and physical, especially with the reactions to my complications resulting from exposure to Agent Orange from my experience in the Vietnam War as a combat infantryman).
So, at that time, I did present a type of eulogy to my listeners as I had just finished shutting down 5 of my then current shows. And today, I had withdrawn 15 of my shows, even though since 2018, I did add 2 more shows — and that is my situation today.
Now, besides physical health complications and aging, what other situations would force an avid podcaster to podfade his shows? Well, I know now that aging conditions that start with dementia and alzheimers (the symptoms, that is) can signify slipping into non-productive situations that may force me to podfade my shows and resign myself to treatment in the VA for PTSD, dementia and alzheimers for my injuries and wounds during my time in the service.
But at this time, I have grown much stronger since the time that I recorded my eulogy in audio for my listeners in the podosphere. And because of this, I feel that I am still going strong in the world of podcasting — and this proves that podcasting is a great way to recover from declining weakness from health and other family medical situations, even though the cause of my health situations was 50 years ago.
And so, I wanted to give you in this audio player the six-minute audio episode of this podcast series (episode 95), so that you can hear what a eulogy from podcasting would be like — and you can understand that it was premature.
---
So I am in recovery and still feeling strong to podcast my episodes and see that my shows are growing with great numbers of listeners and followers. In fact, I have reached a new high for listeners to another podcast show (2030podcast.com) due to the value that others have received — and from their posting not only great reviews, but also republishing episodes in a worldwide stream that has grown my audience of listeners by many thousands.
Thus, I am living proof that age is just a number, but your mental attitude and strength to continue podcasting for passion is most important to overcome both ageism and some of the mental and physical "speed bumps" with declining health.
And for this, I am grateful to my audience, my listeners, my producers and to both Adam Curry and John C Dvorak of the show No Agenda for keeping me sane through all the craziness of 2020. I also thank Sir Ryan Bemrose and Darren O'Neill of the Grumpy old Bens show — especially for promoting my podcast episodes on the noagendastream.com worldwide stream.
Thank you for your attention.
Copyright (c) 2021, Matrix Solutions Corporation . All rights reserved.