Podcast: Play in new window | Download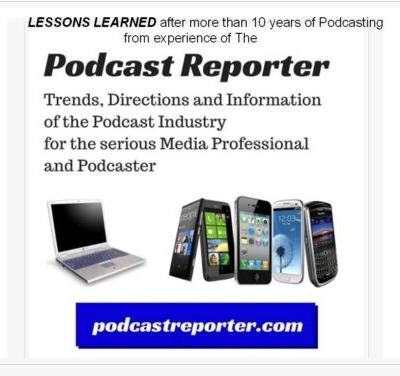 In this episode of The Podcast Reporter, we repurpose a previous episode that deals with a review of many considerations for podfading. If you are experiencing some of the symptoms described in this audio episode, we deliver some strategies to deal with the beginnings of podfading and perhaps avoid it altogether.
As you will hear in this audio episode, the 35 minutes are spent with descriptions that lead us to consider podfading and then think about some strategies to either podfade in the right way or to deal with the thoughts of podfading and not do so because of a resurrection of the passion and the good environment that may exist for you.
We give some good examples of podcasters who have created other businesses and podcast networks and communities — such as Daniel J Lewis and his Podcasters Society. And we deal with situations where you may have a co-host — e.g., the No Agenda Show with Adam Curry and John C Dvorak.
We hope that this evergreen content can assist you in any way so that any possible thoughts of podfading (for whatever reason cited) can be dealt with in a positive manner that will help you overcome the environment that leads to this thinking, and then help you to steer your shows and your business in the right direction for you to become successful.
Thank you for your attention.
Copyright (c) 2021, Matrix Solutions Corporation and Daniel J Lewis and PodcastersSociety.com and noagendashow.com and michaelandmike.com. All rights reserved.