Podcast: Play in new window | Download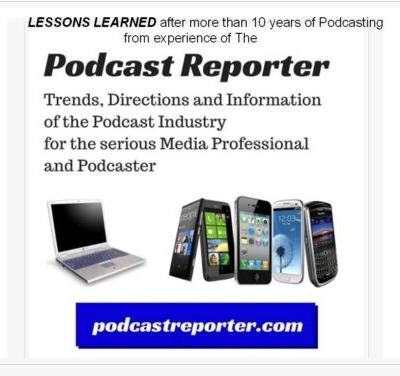 In this episode of The Podcast Reporter, we discuss a case study in which a podcast show can gain discovery and popularity within a podcast network — and how serendipity can occur to help grow the podcast show to possible success. And this is with a current podcast show called 2030podcast.com . This is a show that has two co-hosts — and I am one of them, along with Matt Cox, a podcaster of his own show, Brunch with the Brits.
First, we review a bit of the background of this show.
In 2014, I myself had a meeting with Adam Curry (aka The Podfather) in Austin, Texas. The meeting saw us actually do 3 interviews and have a lunch while discussed various topics in motion pictures (e.g., For Greater Glory and We Were Soldiers, etc.) and podcasting. And one of the interviews that I was able to record with him was concerning the theme of a podcast show that I had recently created and announced — the 2030podcast.com show. While Adam Curry initially gave me the idea for this show on his No Agenda podcast show, he was glad that I was able to take action to produce this show — and our interview served as the first episode of this show. called 2030podcast.com.
---
While I tried to get the podcast show off the ground, family and personal medical problems (along with the dementia and death of my mother) kept me out of podcasting. But later on, I resurrected the podcast show, and then I included a co-host named Matt Cox (a podcaster from his own podcast show of Brunch with the Brits) to share the mic with me in creating our thoughts on what would be our vision of the world of 2030 — including many of the ideas discussed by Adam Curry and myself in the 2014 interview.
---
The Current status of 2030podcast.com
As Matt Cox and myself created and published our episodes starting in October of 2018, our teamwork, dialog, banter and reciprocal respect increased — and, in my opinion, so did the value of our content for the intended audience (which were the producers of the No Agenda podcast show, along with the listeners of the Grumpy Old Bens show and the Randumb Thoughts podcast).
And so it was around episode # 14 in 2020 that I was able to hear that particular episode of 2030Podcast.com being broadcast on the NoAgendaStream.com.  Now, neither myself nor Matt Cox had been actively seeking promotion for our show. But someone who valued our content was able to promote our show and have it actually be published and broadcast on the stream. In fact, in one episode of the No Agenda show (# 1276) during the live broadcast, the ending of the episode has Adam Curry state that what would follow next on the stream would be the 2030 Podcast episode. And it did, in entirety.
---
Now, what could I have thought about this?
Serendipity? Yes, insofar as how Charlton Heston described it as a random act of positive activity that delivers fortunate results. Or, as the wikipedia definition states:  "…a happy accident…Serendipity is an unplanned fortunate discovery."
And so what can serendipity mean for the podcaster?
Well, if you encounter serendipity in your podcasting career or show or business, you may end up with a happy accident — one that you were NOT pursuing, but that landed "in your lap" to cause a fortunate result for you and your show.
For myself and Matt, this means that we can grow our listeners, our audience and our show by being on a network (a stream) of engaged listeners that can only help us to increase the VALUE of our show to them.
For you, as a podcaster, we recommend that you, too, can be available for events and activities that can deliver serendipity to you by creating the best content that you have and being the best, consistent and value-based podcaster that you can be.
How can this be a preparation for serendipity?
Well, the final example cited here is from an introduction to the movie Day of the Jackal by the late Robert Osborne from his TCM channel. This situation had Fred Zinnemann (the director of the film) see a play (which he said was not very good) with an actor named Edward Fox, who delivered a performance which really impresssed Zinnemann. And thus, Fox was cast as the lead role. And the reason:  a performer should always deliver his best, "because you never know who is watching."
And, thus, a podcaster can never know who is listening — and which results may occur from the "performance" of delivering great value in the podcast show. So we hope that you can receive serendipity in your environment to have your show succeed.
Thank you for your attention.
Copyright (c) 2020, Matrix Solutions Corporation . All rights reserved.