Podcast: Play in new window | Download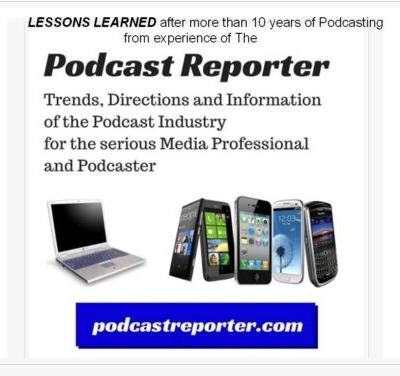 In this episode of the Podcast Reporter, we discuss a recent post in the buzzsprout.com blog titled "15 Untapped Podcast Ideas." In this article, there is a presentation of different themes and possible topics to cover not only for episodes, but also for podcast shows.
This post seems to be a good resource so that you, as a podcaster, can use this to spawn different ideas for shows and episodes and topics. Obviously, this can be a good resource for planning and preparing the future (especially at the end of the year or your period of publishing) to ensure that your topics can be resilient, fresh, new and interesting — so that you can provide VALUE to your listeners.
So, in this post, the following is discussed, with some detail for each heading:
How to choose a good podcast topic — and here, there is a chart that is presented with 16 different podcast genres, so that you can decide if your podcast should fall into one of those categories;

#1 Pick a subject you want to talk about

#2 Play to your strength 

Appeal to a specific demographic or target audience 
Speak to a subset of people with unique opinions or experiences
Focus on specific topics within your primary genre (ex: The podcast Help Me Be Me is "self-help for people who hate self-help.")

#3 Make it niche;
And the article then presents a few ways to make a podcast topic niche, with several tables expressing different podcast FORMATS.

And then the article talks about 15 different untapped podcast ideas, among which are some of them:

 The outdoors
Sailing
Welding, metalworking, woodworking;
Animals;
Crafting and do-it-yourself;
Musical instruments;
House flipping;
Podcasting;
Wedding and event planning;  and here, the article asks you questions about your WHY, your purpose, your targeted audience, your skillset — so you can see what sets you apart;
3D printing;
Storm chasing;
Caving, rock climbing, rappelling;
Tiny Homes
Urban farming;
Book summaries and reviews.
Now, for this podcaster, I have listed many different podcast topics that can serve as genres for ideas and for the creation of new and different podcast shows. I would highly recommend that you hold a planning session with YOURSELF, so that you can record your ideas separately. And then, at a later time, you can determine the viability and the possibility of creating a new podcast. In this way, you can generate more and new enthusiasm and passion in creating a newer podcast show — even though you do not have to delete or remove your current or past podcast shows.
From my own experience, I have had at one time in 2011 (five years after I started podcasting) over 16 podcast shows. And one by one, I had to podfade them. Why? Because I feel that all podcast shows need to be retired once the amount of passion diminishes and the amount of content is reduced to a point where it makes sense to terminate  a show.
---
So, we hope that you, as a podcaster, can plan for your own planning session to examine not only these mentioned 15 topics for podcasting, but for YOUR OWN themes that need to be contemplated. Who knows? You may resurrect the passion for podcasting with great ideas that will spawn new shows and great content to provide VALUE for your audience in the near future. We hope that this passion continues for you and that your podcast shows grow and become successful.
Thank you for your attention.
Copyright (c) 2020, Matrix Solutions Corporation . All rights reserved.