Podcast: Play in new window | Download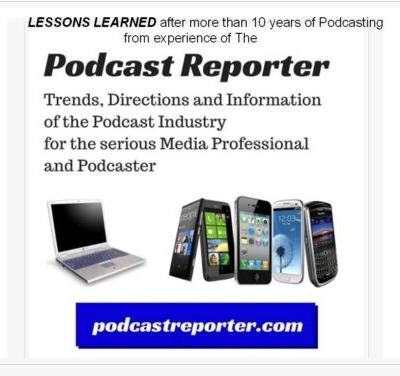 In this episode of the Podcast Reporter, we deliver some tips from a couple of great podcasters on the topic of being a great guest and being interviewed.
First, we point you to a recent email from Chris Brogan about how you can be the best guest possible within your podcast experience. In this email distributed to his list of fellow-thinkers, he mentions these key action items:
"How to Be the Best Guest
Have a Story;
Have a Point of View;
Be Ready to Fill In Some Blanks;
Entertain and Inform – if someone's asked you to be a guest, it's to entertain and inform the people they serve with the information they're asking from you.
If You Have to Sell, Do It Gently – Be clear about what you sell. Just don't sell it. (Much.)"
---
I have always been an advocate for good interviews. I myself had a podcast show (one of the first since 2006) that dealt with interviews of entrepreneurs, which was called The Struggling Entrepreneur. This show was well before others who copied this format came into the podosphere, and six years before any other podcaster was "on fire."
From this interview-based show, I received some good information that is evergreen from Max Flight, after I interviewed him for my show, The Struggling Entrepreneur.
Thus, for a good 30-minute conversation with Max Flight about being interviewed, here is an audio episode in which Max discusses the topic of "being interviewed" in a great manner. This is evergreen content, and it is still very relevant today.
---
For this podcaster, the art of interviewing is a topic that has been tossed around the podosphere since 2006 in various ways. For those of you who have had jobs before where you were involved in events marketing or some kind of journalism, then your experience will help greatly in adding the professional touch of interviewing, as well as being a guest for someone else's interview on another podcast.
Although it seem as if today's environment has every neophyte podcaster giving advice on being an interviewer, but few have actually captured the formulas for being a great guest. Both Chris Brogan and Max Flight have delivered to you the best suggestions from their experience.
We hope that you, yourself, can learn some gems from these two podcasters to improve your skills as a guest when you are being interviewed. Why? Because your audience will be able to see great VALUE in your content when they listen to you as the guest.
Thank you for your attention.
Copyright (c) 2020, Matrix Solutions Corporation . All rights reserved.