Podcast: Play in new window | Download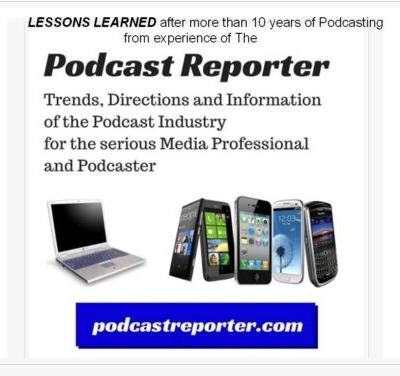 In this episode of The Podcast Reporter, we deliver a look back at one of the original podcasters who came from the area of radio and internet broadcasting. This is Richard Cleveland, who had his production company called Naked Ape Production (the twitter handle is @naked_ape_prod). We were lucky enough to interview him from his site in Canada and learn what the difference would be in the world of "internet broadcasting" and podcasting.
And so, from almost a decade ago, we look at a moment back when the people in the internet did not understand podcasting. And here is how a veteran of over 20 years was able to launch successfully podcast shows with the intent of monetizing businesses in the podosphere.
This was originally an episode from an earlier podcast show called The Struggling Entrepreneur. And we thank Richard Cleveland for his time and his talent. By the way, later on in the years, Richard was a guest podcaster who contributed to one of the "rounds" of the Podcasters' Roundtable podcast show, created and hosted by Ray Ortega.
---
In the early days of podcasting, we were forced to educate inquisitive minds about podcasting — we had to explain what a podcast was, and how subscriptions to shows did not necessarily mean a paid amount to subscribe, etc. And thus, Richard found an eloquent method of education so that people initially understood the concept of podcasting — it was an "internet broadcasting show." And he has always been a proponent of the question: "are we podcasters or internet broadcasters?"
Now, although some of the links or sites may have changed or faded out from the podosphere, we owe much to early podcasters like Richard Cleveland who paved the way for today's successful platform of new media in podcasting and getting it close to today's broadcasting on the internet.
Thus, we hope that you will enjoy this repurposed episode from the archives of the early podcasters. And you can see, then, how much has changed, but how much has also stayed the same.
Thank you for your attention as we deliver some memories of podcasters in their journeys from the past.
Copyright (c) 2020, Matrix Solutions Corporation and Richard Cleveland. All rights reserved.