Podcast: Play in new window | Download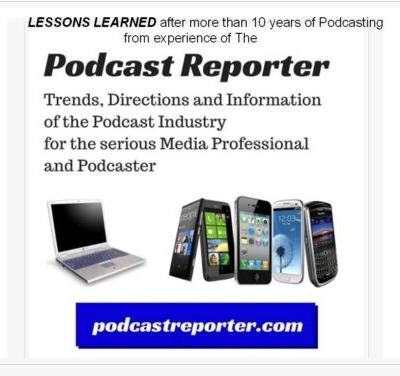 In this very brief episode of podcastreporter.com, we focus on a list of podcast shows whose subject is PODCASTING. This list was initially delivered in July of 2020 by Dave Jackson in his schoolofpodcasting.com site and was mentioned in various podcast episodes from him. In fact, the title of this list is "Podcasts about Podcasting — the never-ending list."
When we look at the list, Dave has not only divided the entire list by different categories, but he also has let you know which of these shows is no longer active. He did this by striking a line through the title (e.g., the list has the podcast show of "Your Podcast Consultant" with the strike-through added.
As you will hear in this audio episode, the categories for the list include the following (and in the order in which they appear on the list):
Active "how-to" podcasts;
Podcasters being interviewed;
Occasional episodes; and
Shows on hiatus (podfaded),
We would like to mention that this show of The Podcast Reporter is listed in the first category of Active How-to Podcasts with the subject line of "Podcasting News."
Now, this list has grown over the past 15 years under the watchful eye of Dave Jackson of The School of Podcasting as a key podcaster and content creator. You see, in the early days of the podosphere in 2005 and following, the list was rather small, and all the podcasters with shows about podcasting could have been gathered together in person at the first Podcast and Portable Media Expo in Ontario, California, in 2005 and 2006.
So, as a reference for the media, as well as the new and aspiring (and even older and experienced) podcasters, this list can show how much the podcasting community has embraced those shows whose topic revolves around podcasting and the podosphere.
By the way, this list also received an honorable mention in a recent issue of the podnews.net newsletter.
So, if you want to keep on top  of the podcasting space, you may want to review the list and subscribe to some of these more active shows whose subjects may be of interest to you. And in this way, you can continue to be on top of your game in podcasting, as well as become knowledgeable in the podosphere as a content creator and podcaster. We hope that his list will provide you with yet another resource for your own knowledge, education and be of value to you.
Thank you for your attention.
Copyright (c) 2020, Matrix Solutions Corporation and Dave Jackson from The School of Podcasting. All rights reserved.