Podcast: Play in new window | Download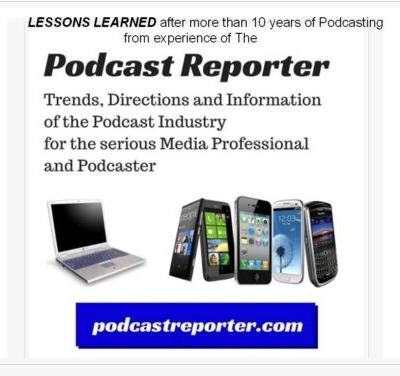 In this episode of The Podcast Reporter Show, we discuss an email-episode from Daniel J Lewis, the award-winning podcaster from his show called The Audacity to Podcast (currently on hiatus with sparse episodes being released on demand within important announcements). He has specialized in helping podcasters be aware of podcast reviews. In this current email sent out in 1st quarter of 2022, he goes one step further — he helps to solve some complex issues with getting podcast reviews.
What is the problem? And how does Daniel go about trying to help the podcasters who want reviews from any location worldwide? Well, Daniel states in his email content:
Here's the problem. There are so many podcast platforms out there and so many of them don't allow ratings or reviews, it's hard to give the right call to action for your audience to rate and review your podcast.
It gets worse. Android devices can't access Apple Podcasts, non-Android devices can't access Podcast Addict, and Apple Podcasts is actually still "iTunes" on Windows and older macOS versions.
So how can you ensure your listeners are going to the right place to leaving ratings and reviews for your show and without overloading your audience with incompatible options or complex instructions?
Here are two solutions:

Learn all the coding necessary or find and buy the right tools or plugins to build your own solution.
Use the LovethePodcast.com feature included with all accounts on My Podcast Reviews!
LovethePodcast.com provides the smartest way to get more ratings & reviews! It automatically displays only the rating and review platforms compatible with your listener's device. For example:
Only Android users will see Podcast Addict.
Windows and older macOS versions will see iTunes.
New macOS, iOS, and iPadOS will see Apple Podcasts.
All platforms will see Podchaser since it works on everything.
And so on.
Plus, this gives you a memorable and easily speakable URL you can customize to your needs! For example, I can say in my own podcast, "If you love the podcast, please give it a rating and review at LovethePodcast.com/audacity and I might read your review on the show!"
But whether you use My Podcast Reviews or make your own page, make the process as easy as possible for all your listeners, and your non-Apple audience will probably feel more valued and more likely to give you those positive reviews!
Thus, Daniel has made this easy for the podcaster. I would highly recommend that you subscribe to Daniel's email episodes being delivered now and for the foreseeable future. And then you can get the emails directly sent to your inbox.
Now, I have known Daniel since 2010 when I interviewed him on my flagship podcast (at that time), The Struggling Entrepreneur (now podfaded); and Daniel later interviewed me on his show, The Audacity to Podcast (in 2 episodes). I have always admired his contributions to the podosphere and the great value he delivers in his podcast episodes, as well as his products and membership site (Podcasterssociety.com) and his training and exhibitions at Podcast conferences in the past.
So with the products that Daniel has released, you, as a podcaster can benefit from his content if you are interested in maximizing the rewards from podcast reviews worldwide. And his several products have all been very thorough and technically competent (in fact, many podcasters have used him and his content as the authority).
Thus, I hope that your decision in dealing with podcast reviews worldwide will benefit from the content, training and products from Daniel J Lewis. In this way, you can get closer to your audience and benefit in the community of your own podcast show.
Thank you for your attention.
Copyright (c) 2022, Matrix Solutions Corporation and michaelandmike.com and Daniel J Lewis. All rights reserved.