Podcast: Play in new window | Download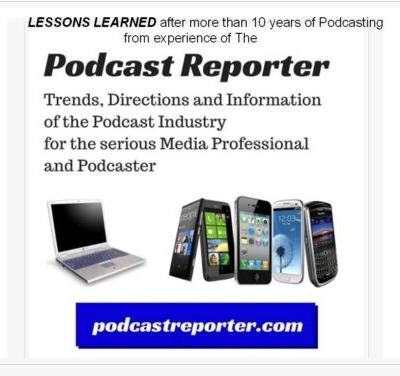 In this episode of The Podcast Reporter, we re-visit the topic of some new media creatives that may have FEARS in thinking about podcasting.
The original topic was presented to us in episode number 55 in the back-catalog of The Audacity to Podcast from Daniel J Lewis. And we plan to add more fears in this update of this specific topic.
Now, in the original podcast episode in 2011, Daniel presented us with seven major fears, which were:
It is not worth the time;
I don't have enough to say;
 No one will want to listen to me;
People will not like me;
Podcasting is too hard;
Podcasting costs too much;
I hate the sound of my own voice.
And in this episode update, we add the following reasons that may appear to be excuses that can be overcome (some may be similar, but not exactly the same in detail):
I don't want to be a techie;
I cannot make any money;
I am scared to podfade;
It is too competitive;
I don't want to learn or do SEO (search engine optimization);
I don't want to become a loner or introvert;
It's too time-consuming;
Any enthusiasm can die;
I don't want my hobby to become an obsession;
I don't want to burn out.
So, if you make a checklist for yourself and cross each one out when you overcome it. And we sincerely hope that you, as a podcaster, can learn to overcome any fears of these 17 reasons for podcasting — and then you can enjoy the passion of podcasting and be successful.
Thank you for your attention.
Copyright (c) 2020, Matrix Solutions Corporation and episode TAP55 from Daniel J Lewis of theaudacitytopodcast.com. All rights reserved.